JetBrains Academy Plugin
Releases
EduTools 2022.9 Is Available
Version 2022.9 of the EduTools plugin is now available! With this update, our goal has been to implement features to help you stay well-informed, including Change notes functionality for Marketplace courses and specific notifications for Codeforces users. We've also improved the overall quality of the plugin by fixing a number of bugs. Read on to learn more.
🆕 Notifications about Codeforces anti-crawler protection
The plugin now alerts users whenever Codeforces activates anti-crawler protection. While this protection is enabled, the contests become temporarily unavailable in the IDE. From now on, we will notify you about such cases and suggest that you continue working on your contests directly on the website.
Thanks to these notifications, you will be able to identify what is keeping you from working on your contest in the IDE immediately, rather than having to track down the source of the interruption. The notifications will appear regardless of the type of requests you are currently performing (for example, logging in, adding contests to your panel, opening a contest, or submitting a solution). Here's what the message looks like:
🆕 Change notes for JetBrains Marketplace courses
We've got great news for both content creators and learners. Authors now have the option to add a Change notes file whenever they update their courses. When a new course version is synchronized on the learner's side, they will receive a See What's New pop-up window.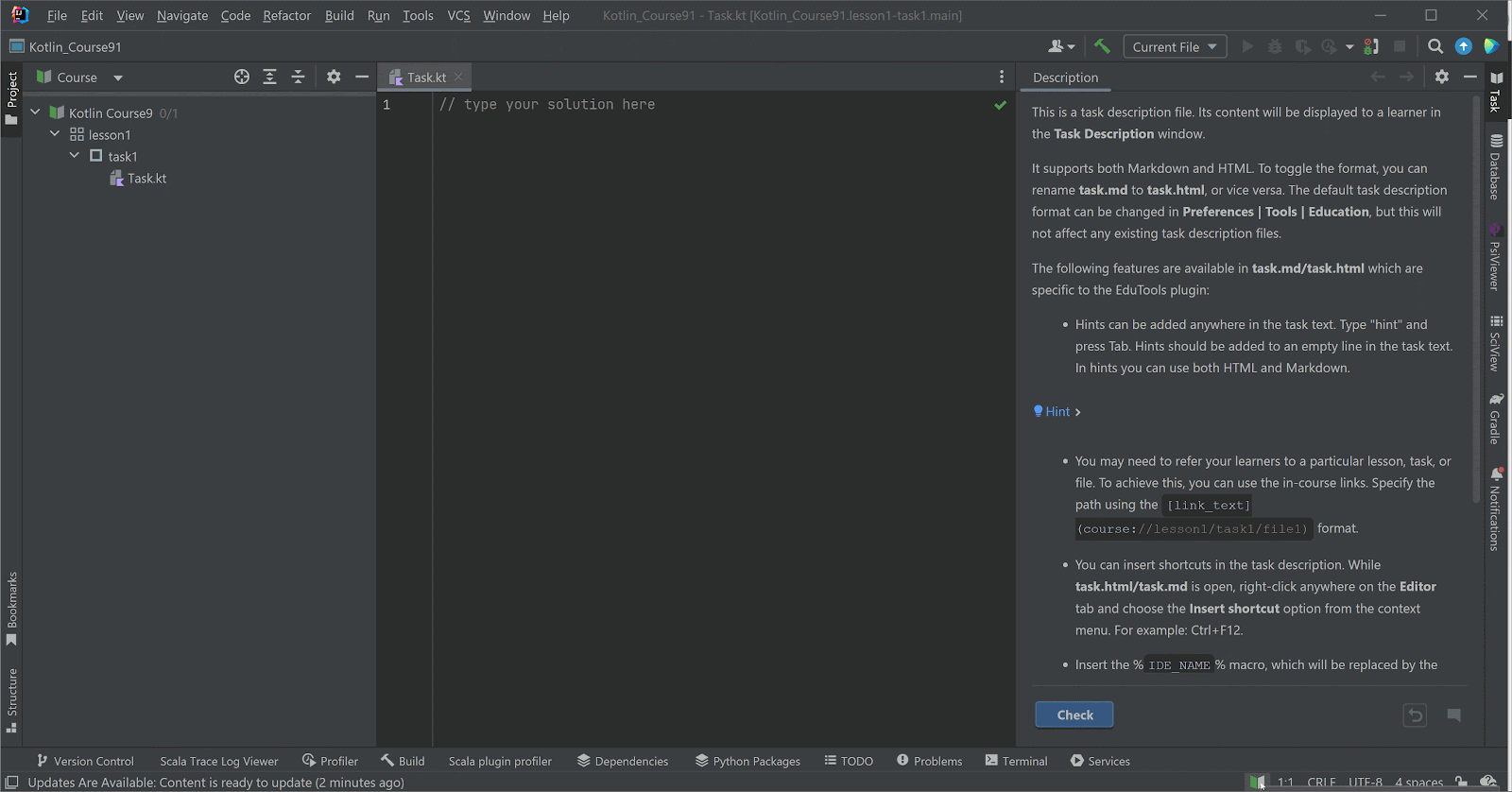 For educators, this functionality is currently optional. Check out our Educator Start Guide to see how you can add change notes for your course.
For learners, there are 3 ways to install a course update once a new course version is released:
Clicking on the link in the pop-up notification.
Clicking on the Synchronize course button as shown above.
Clicking on the link in the text box at the top of any opened file
Notable improvements and bug fixes
EDU-5270: Task names are now correctly displayed in task descriptions.
EDU-5258: Input data is no longer stretched out with extra line breaks.
EDU-5012: Essential task files are no longer shown as excluded from tasks.
For the full list of issues addressed in EduTools 2022.9, see our issue tracker.
You can install the EduTool plugin or update it to the latest version right from Settings (Preferences for macOS) | Plugins in your JetBrains IDE.
IntelliJ IDEA Edu and PyCharm Edu 2022.2.1
We've released the 2022.2.1 versions of PyCharm Edu and IntelliJ IDEA Edu, which include the latest updates for PyСharm Community and IntelliJ IDEA Community Edition, respectively, as well as EduTools 2022.9. You can download the new builds from our website, via the Toolbox App, or by using a snap package for Ubuntu.
Please share your feedback here in the comments, on Twitter, or through our issue tracker. We are looking forward to hearing your thoughts and ideas!
Keep on learning!
Your Educational Products team
Subscribe to Blog updates