Sales and Promotions
Introducing PhpStorm Competitive Discounts: up to 40% OFF!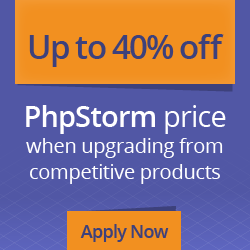 Today we're thrilled to bring you Competitive Upgrade Discount for PhpStorm! This discount is designed to smooth your transition from other commercial IDEs and text editors to PhpStorm.
Many of you have requested this kind of discount. In fact, we already offer it for our products, but specially for PhpStorm we've decided to highlight it even more.
The rules are simply. If you own a license for a commercial tool that is competitive to PhpStorm, you can always receive a 25% discount on the standard PhpStorm price. This is valid for commercial and personal PhpStorm licenses alike.
What is more, as a time-limited offer individual customers are entitled to 40% OFF the standard new PhpStorm personal license price. This discount is available only until December 6, 2014, 23:59 GMT.
While we don't disclose the complete list of eligible competitive products, if you've previously purchased a commercial IDE or text editor suitable for PHP development, then you are eligible for this discount. We will manually process each request to ensure fairness. That said, the final decision is left to our discretion. Competitive discount can't be combined with other discounts (such as start-up discount, volume discount, etc), and can't be applied if you already have PhpStorm licenses.
A proof of purchase of a competitive product is required in order to get the discount. Proof of purchase may be an invoice, receipt or similar document. Please make sure to provide your proof of purchase in the Attachments field as you fill out the request form.
To help you get used to PhpStorm more smoothly, we've also prepared a set of tutorials:
Develop with pleasure!
– JetBrains PhpStorm Team
Subscribe to Blog updates