PHP Annotated Monthly – January 2018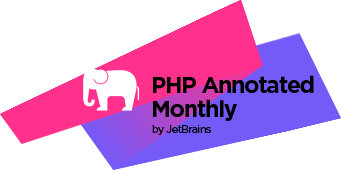 Happy New Year! May your 2018 be successful and I hope you never need to use Local History. Here are all the links to all the blog posts you need to read curated by Gary Hockin, Developer Advocate for PhpStorm.
PHP, Testing & Development
It's a new year, is there ever a better time to upgrade your PHP version to the latest stable? If you upgrade to PHP 7.2.1, I promise this will be the last month I start this post annoying you to upgrade. PHP 7.0 lost active support in December 2017, and PHP 7.1 loses active support this year, so keeping on top of your PHP version is really important. More scarily, PHP 5.6 loses security support in 2018, I'll leave you to panic about the implications of that.
Frameworks and Libraries
Some fascinating Symfony posts again over the holiday period which is only to be expected with the recent release of Symfony 4.0 and Symfony Flex. It's worth noting that the Symfony based micro-framework Silex will go end-of-life in June 2018 so if you're using it in production, now is the time to make plans to migrate away.
Laravel
Zend Framework
Symfony
Other
Community, Career, and Events
There were a very nice series of posts on the 24 Days in December blog, a series of guest posts one for every day of advent which I very much enjoyed.
On a personal note, I'm very much looking forward to 2018 being a productive and profitable year for everyone using PHP. We're already looking forward to our first of the three PhpStorm releases of the year which should release around March time. As usual, if you have any problems, ideas or nice things to say, get in touch!
– Gary & The PhpStorm Team
Subscribe to Blog updates