Early Access Program
PhpStorm 2018.3 EAP 183.2407.8
The new PhpStorm 2018.3 EAP build (183.2407.8) is now available! You can download it here or via JetBrains Toolbox App. Or, if you have the previous PhpStorm 2018.3 EAP build (183.2407.8) installed, you should soon get a notification in the IDE about a patch update.
This build delivers basic DQL support, autodetecting non-PSR coding standards for PHP_CodeSniffer, improved completion performance, a bunch of bug fixes and improvements for PHP and the Web, and includes the latest enhancements of IntelliJ Platform.
Doctrine Query Language Support
While you can use raw SQL with Doctrine, the preferred way to make queries is by using DQL. DQL as a query language for your object model. It means that in your queries you'll be using PHP classes' and fields' names to fetch or update data. Learn more about DQL in the documentation.
Before PhpStorm 2018.2.3, DQL queries were inspected as SQL and therefore highlighted as containing errors. In PhpStorm 2018.2.3, injections of SQL inside text literals were automatically disabled for strings with DQL identifiers.
In PhpStorm 2018.3, we introduce basic DQL support: your DQL queries will now be properly highlighted.

In the upcoming builds, we plan to deliver automatic injecting as well as autocompletion for entities and fields. Please let us know what else would be great to add to make DQL support complete.
Autodetect non-PSR coding standards for PHP_CodeSniffer
When developing with one of the major Frameworks or CMSs, you may add the corresponding coding standards package to you composer.json to ensure the quality and style compliance.
In PhpStorm 2018.3, the following standards will be detected automatically:
If you have both PHP_CodeSniffer and one of the Standards added to you composer.json dependencies, then the corresponding inspection will be turned on.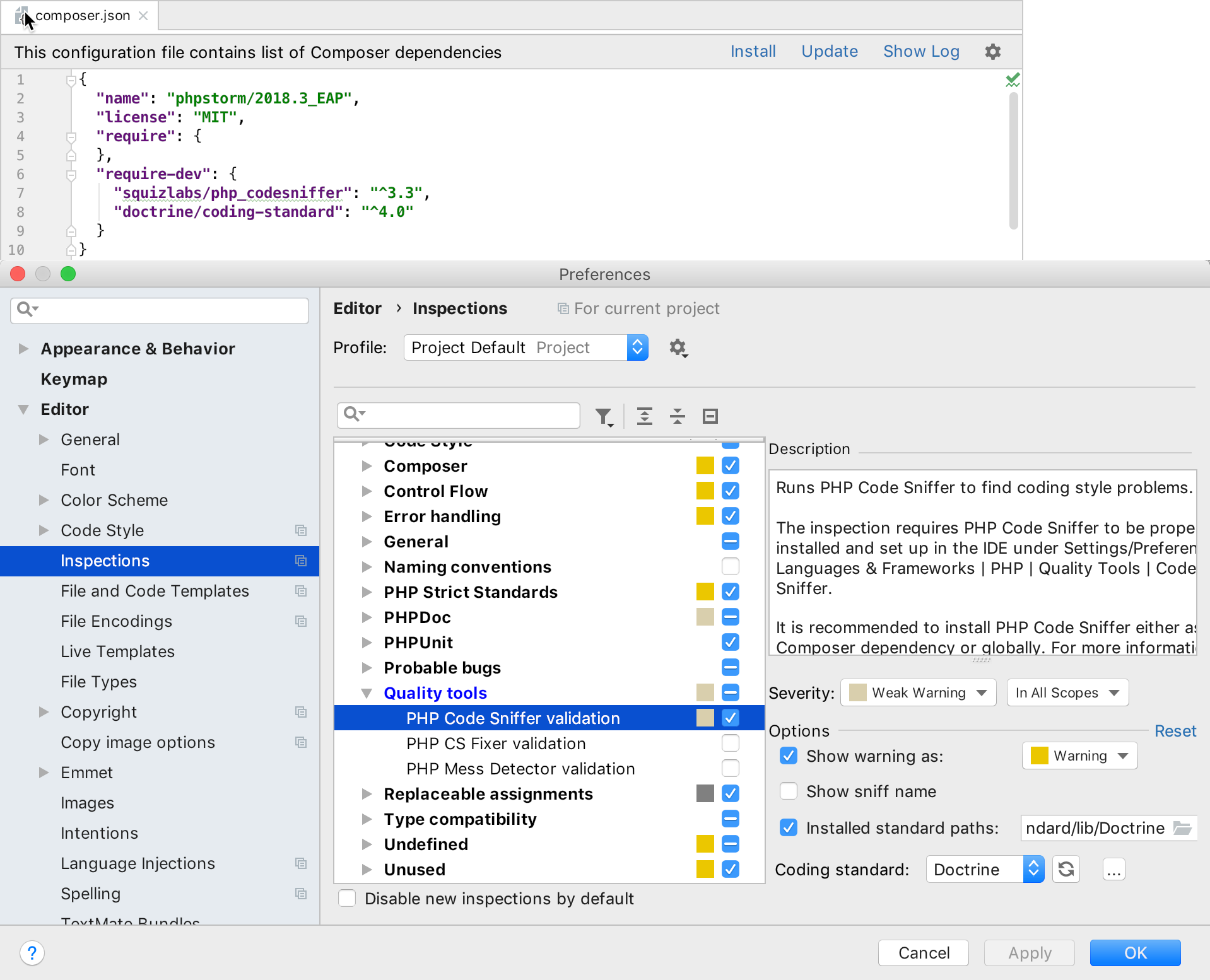 Other PHP features worth noting
It's now possible to use Macros in arguments for PHP Script run-configuration (WI-43456 ).
PHP completion performance improved.
Other platform features worth noting
See the full list of bug-fixes and improvements in our issue tracker and the complete release notes.
Future plans
Use the board to view the up-to-date list of the features planned for 2018.3 release, as well as discovered bugs. The list only reflects our current plan and is not final. It may be revised during development since new issues may appear and existing may be re-planned to appear in later versions. Please share your opinions on what is important to you and what would you like to see in the new version!
---
Download PhpStorm 2018.3 EAP build 183.2407.8 for your platform or click "Update" in your JetBrains Toolbox App and please do report any bugs and feature request to our Issue Tracker.
Your JetBrains PhpStorm Team
The Drive to Develop
Subscribe to Blog updates