News
RubyMine 2.0 Release Candidate, still 20% off!
YAY! We're almost there! We've just uploaded the Release Candidate for RubyMine 2.0.
Go and get it — http://www.jetbrains.com/ruby/nextversion.
Thanks to all the reports from Beta users, there's quite many changes that make this build a real candidate.
What this means? This means the release is very close and any day now the current 20% off price will turn into the standard one. If you still not made up your mind about RubyMine, tell at our forum what makes you hesitate.
Important: This build does not have a license key bundled, so you need to get evaluation key to use it. If you can't get it because you had requested it before, just drop us a line and we'll send you a new key. RubyMine 1.x key will work, of course.
And something new to finish this up. We've added bundled "quick-lists" for VCS operations. You can use them for quick access to most of version control options. Try them — ⌃V/Alt+BackQuote.
The list for Git differs from other VCSes. Some screenshots below:

No VCS configured: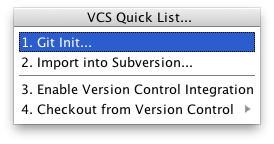 Download RubyMine 2.0 Release Candidate!
Subscribe to Blog updates