News
Let Your Ruby Shine with RubyMine 6.0!
Hello everyone,
Today we can finally take a deep breath and solemnly proclaim that RubyMine 6.0 is fully baked up and waits for you to download and try it!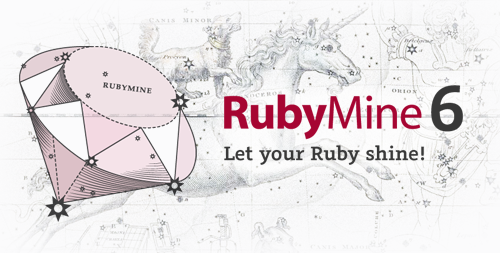 Key features of RubyMine 6 include:
Support for working with multiple projects in one IDE instance
Enhanced Ruby support up to version 2.1.0-preview1
Boosted overall IDE performance, reworked code insight for faster editing and code completion
Improved Extract Method refactoring now finds duplicates
Built-in SSH console and local terminal
Integration with Zeus (check this tutorial to learn more)
Faster Ruby visual debugger and support for debugger-gem with a multi-process debugging option
Adjustable auto-test delay, and more.
This release also includes many features and improvements from the IntelliJ Platform continuously developed by JetBrains, including GitHub pull requests right from the IDE, Presentation and Full Screen views for Windows, Linux and OS X, support for Subversion 1.8 and database and other improvements.
You can buy or renew your license on our site. Note that RubyMine 6.0 will be a free update for everyone who purchased RubyMine after November, 26, 2012. As always free 30-day trial is available if you need some time to decide.
We would like to thank you all for your votes, issues, feature requests and for staying with RubyMine during the EAP. We always appreciate your feedback and hope that you'll enjoy RubyMine 6.0!
Subscribe to Blog updates