News
JetBrains Toolbox App 1.3 is here
We are happy to announce Toolbox App 1.3 release! Following months of development, this update brings not only a full load of bug fixes but also some new features we hope you will find useful.
Let's go over all of the new features and improvements one by one.
Global hotkey
Now you can set up a system-wide keyboard shortcut that opens the Toolbox App window no matter which app has focus at the moment. We didn't want to hijack any of your favorite key combinations, so it is disabled by default. Open Settings and set up the one most convenient for you.
Keyboard navigation
After a global hotkey is introduced, it is quite natural to expect the whole app to be usable without a mouse. And it is! You can navigate through lists with arrow keys and execute any item with Enter. Here is the full list of supported shortcuts inside the Toolbox App.
| | |
| --- | --- |
| Ctrl+Tab (⌘← and ⌘→) | Switch between Projects and Tools panels |
| Alt+Enter | Show context menu |
| Ctrl+H (⌘H) | Hide available tools |
| Ctrl+R (⌘R) | Check for updates |
| Ctrl+U (⌘U) | Update all |
| Ctrl+T (⌘T) | Update Toolbox App |
| Ctrl+Comma (⌘,) | Open Toolbox App Settings |
Collapsible tools list
You can now collapse the list of available tools. This is an improvement many users asked for.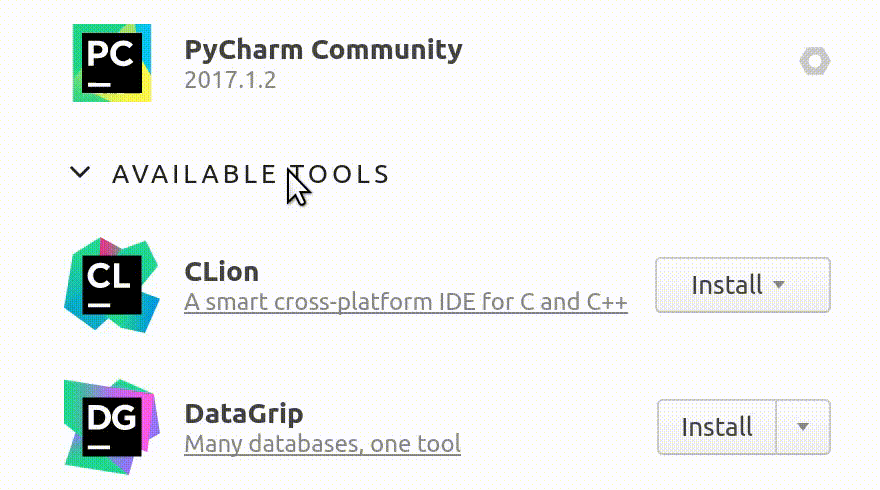 Better ReSharper and Visual Studio 2017 support
Toolbox App now correctly detects Microsoft Visual Studio 2017 (except listing recent solutions, see known issue). Thanks to the updated ReSharper Ultimate installer it now better integrates with all installed Visual Studio versions when invoked from Toolbox App.
We encourage you to try it and let us know how it works for you.
Animated icon
The tray (or menu bar) icon animation indicates now when Toolbox App is active downloading or installing the updates.

Anonymous usage statistics
After your feedback, usage statistics is the second most invaluable tool for us for improving our products. With this build we've added anonymous usage statistics collection to the Toolbox App. The data we collect is not associated with you or your JetBrains account; it doesn't include any personal information like project names or paths. Of course, Toolbox App will ask your permission to collect these statistics on the first start, and you can revoke your consent in Settings at any time.
Bug fixes and smaller improvements
Many integration issues with different Linux environments are fixed in this release. We want to thank our users for the valuable feedback!
Full changelog can be found here.
Of course, all changes from previously released 1.1 and 1.2 updates are included too. Most notable bugs squashed in those builds are app crashes in different environments, incorrect window scaling, and JetBrains Account login issues. Logout button absent in 1.0 has also been added to Settings screen earlier. Windows and Linux users with touch screens can now benefit from them in Toolbox App too.
Update now from the app or download it from its homepage.
Subscribe to Blog updates