News
Toolbox App 1.5: Staying up-to-date has never been easier
Please welcome Toolbox App 1.5—the biggest update since the initial release one year ago. In this build, you'll find an auto-update option, improvements for the projects list, and a refreshed user interface.
Auto update
Now in every installed tool's settings there is an option to enable automatic downloading and installing of newer versions. There is also a similar option available for Toolbox App itself in the main settings. Enable it to always use the latest available goodies and not have to wait an extra second.
To ensure this feature works properly, we've improved the reliability of downloads on poor connections. Toolbox App now correctly reacts to network timeouts and resumes the download after a connection is reestablished.
If, for some reason, you don't like the recent version that was installed automatically, you can always roll back. This action will revert the latest update and remember to skip that version next time. The 'Skip' action is also available in the tool's menu if you decide to stick to manual upgrades. If you click it by accident, you still can force the skipped version to be installed from the same menu.
Please note that auto-update is disabled by default and should be activated for each tool individually. On Windows 8 and newer, auto-update is disabled on metered connections per Microsoft guidelines.
We encourage you to enable auto-update for all installed tools and let us know how it works for you.
Improved projects list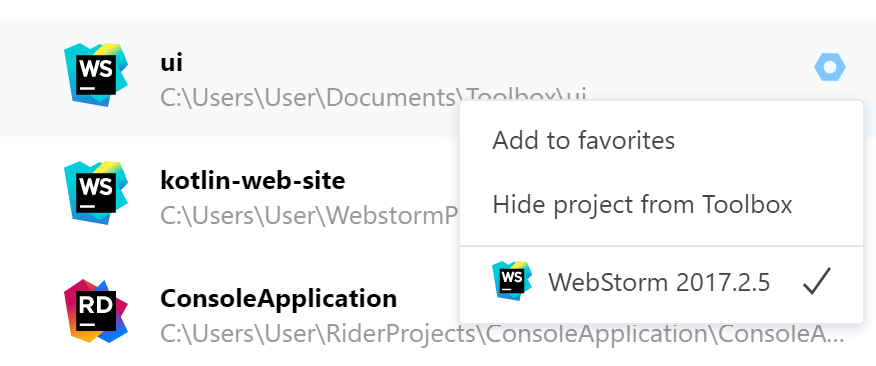 There is a new context menu on every project in Toolbox, from which you can:
Mark a project as favorite (Alt+Plus, ⌥+ on macOS). Favorite projects stay at the top of the list for easier access;
Hide an unwanted project from the list (Alt+Del, ⌥⌦ on macOS). No files are deleted, which is why we call it 'Hide,' not 'Remove.' To restore the project in the list, just open it in your favorite IDE again;
and
Select a specific IDE to open a particular project by default, in case you have multiple IDEs available.
The projects list is now updated more often, and more efficiently, too, meaning it always stays up to date while consuming fewer resources.
A custom project icon is now detected as well. You can set it from an IDE's Welcome screen or via the Manage Projects dialog, or just add an icon.png file in the .idea directory in the project root.
Also, if your IDE configs are stored in a non-default directory, Toolbox App will pick up on this and correctly detect and show all your projects.
Firefox extension for integration with GitHub
A browser extension for easy opening of GitHub projects is now available in the Firefox Add-ons directory. (Previously, it was only available for Google Chrome.)
Refreshed UI
To celebrate Toolbox App's first birthday, we've slightly refreshed its UI. Check it out!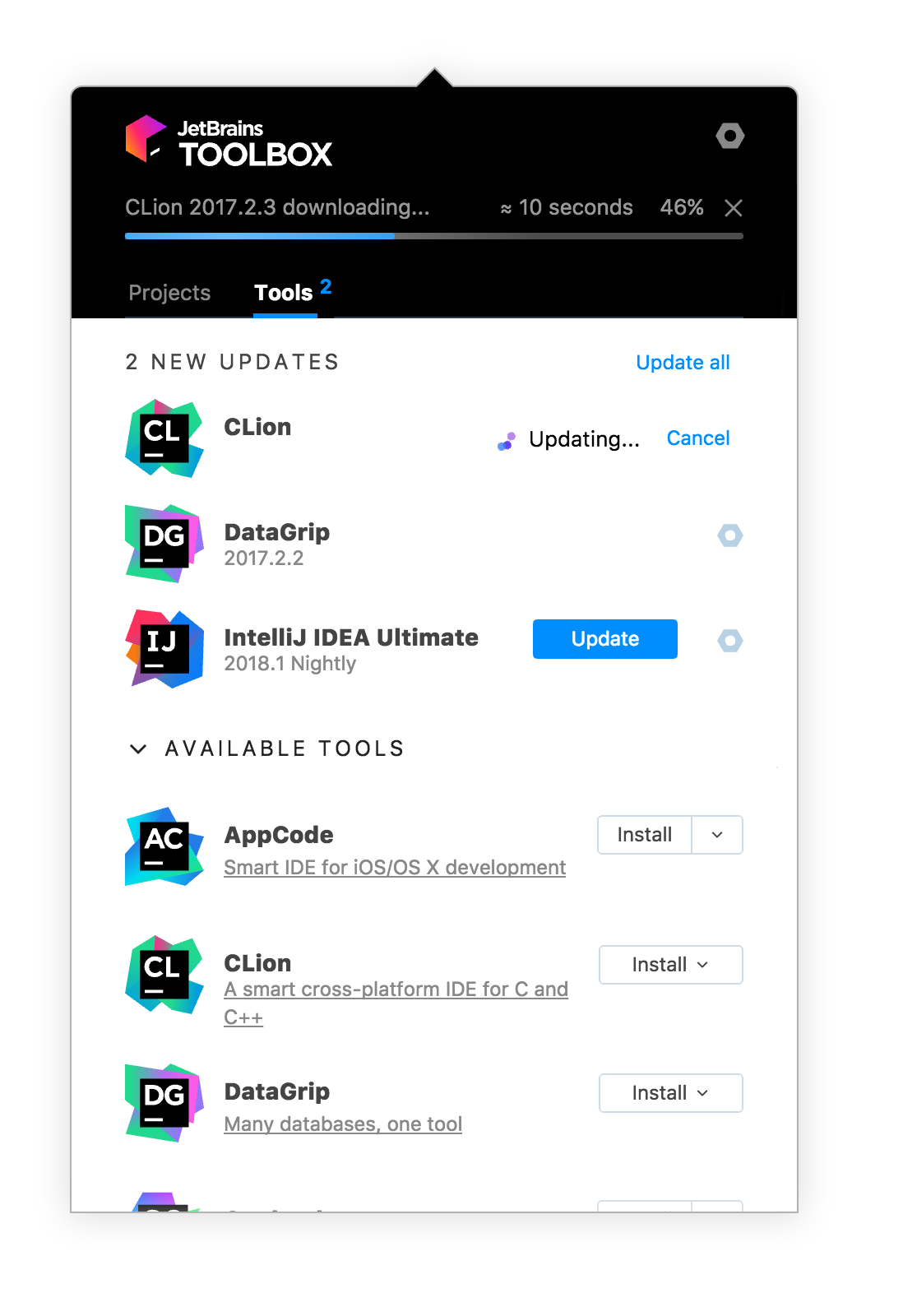 Compatibility notes
On Linux, Toolbox App now requires glibc version 2.17. This means it will no longer start on older distributions like CentOS 6 or Ubuntu 12.04. Their support period has come to an end, and we've stopped releasing new builds for them, in order to focus on better support for modern distributions. If you're staying on those platforms, you're welcome to use Toolbox App 1.4–updates for installed applications will continue to work as before.
This release also fixes an issue with blank window, which we've been able to reproduce on some configurations with the latest graphics cards' drivers on Linux. We are still investigating some issues with Wayland though.
As usual, many smaller fixes and improvements are included. See the full release notes for details.
Update now from the app or download the new version and let us know what you think of the new features!
Spend more time coding, less updating!
Your JetBrains Toolbox App Team
Subscribe to Blog updates