News
Toolbox App 1.11: What's New.
Ever since Toolbox App 1.0 first came about back in October 2016, more and more of our customers are finding that using it makes it even easier for them to access their projects across JetBrains IDEs and update all their IDEs to the newest versions (including EAPs). We want to thank you for supporting and encouraging us to make Toolbox App even better.
Based on your feedback we developed and launched the following features in our previous releases:
Auto-update for Toolbox App is now enabled by default
Toolbox App can update manually installed IDEs on all OS
Option to disable instant rollbacks
Command-line launchers (Shell scripts) for installed IDEs
And now we have better integration into all the different OS
Linux: Toolbox App detects IDEs which were manually installed.
Windows: run the IDEs as Administrator, IDE shortcuts in the Taskbar and on the Desktop are updated automatically.
macOS: fixed the bug where docked icons were broken after an upgrade (Dock restart was required after each update).
What's new in Toolbox 1.11
Well, it's now time for something new. We understand how important it is for you to see the release notes before installing the version updates. Please find the What's New in the new 1.11 Toolbox App release. Review the release notes before you update right inside the app as soon as a new version update becomes available.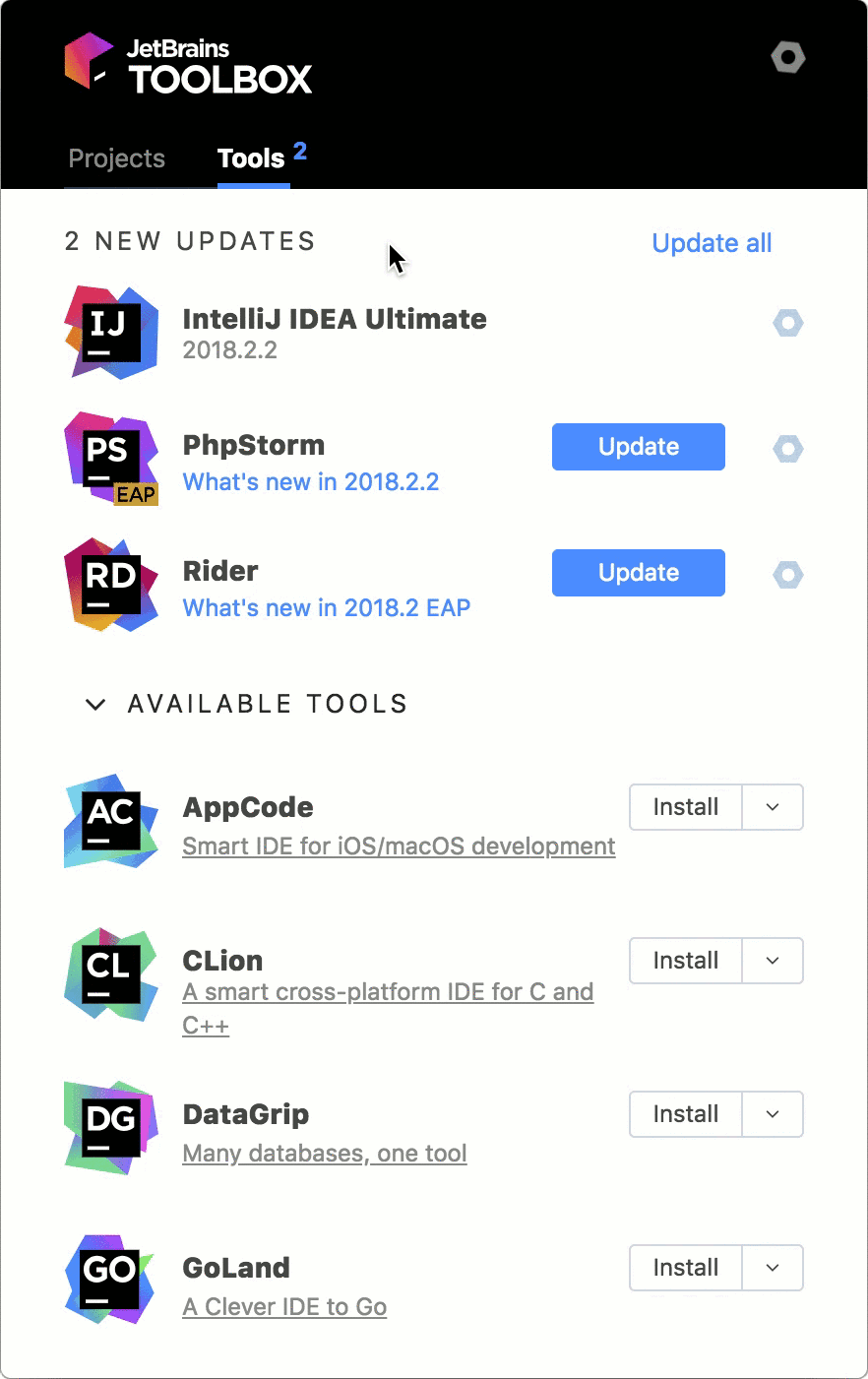 Updated UI
We have also updated the Settings UI by removing the "apply" button. All changes are now applied immediately.
This release comes with the usual batch of bug fixes as well. The most noticeable of which is that Gradle support now works correctly in IntelliJ IDEA when started from Toolbox App on Windows. See the full list of release notes.
We love your feedback and will continue improving Toolbox App to make it more reliable for you. Follow us on Twitter to get the latest up-to-date news and useful tips.
Manage your JetBrains tools with ease!
Your Toolbox App team
---
Check out Google Chrome extension and Firefox Add-on for GitHub integration.
Subscribe to Blog updates