News
Releases
DataSpell 2022.3.2 Is Out!
DataSpell 2022.3.2 brings you fixes to ensure that Jupyter Notebooks are consistently reloaded from disk and that your typing doesn't get stuck in reverse. Download the new version from our website, update directly from the IDE, via the free Toolbox App, or use snaps for Ubuntu.
Notebooks Reloaded
In previous releases, Jupyter Notebook files opened in DataSpell were not always updated when the file changed outside DataSpell, for example when it was edited in another editor or IDE or updated by pulling a new version from Git. Using Reload from Disk (either from the file context menu or via a popup that opens when the file changes on disk) in these circumstances did not reliably update notebooks. In DataSpell 2022.3.2, Jupyter Notebook files update correctly to reflect the latest version on disk.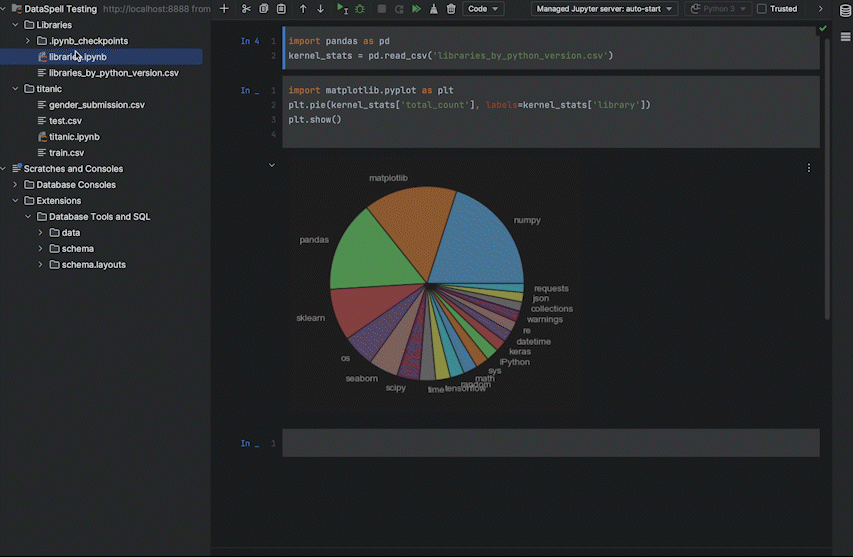 Don't Flip it and Reverse it
In DataSpell 2022.3, characters typed in a Jupyter Notebook sometimes appeared in reverse, or from right to left, in the IDE. For example, when typing "print" in a cell, "tnirp" would appear in the cell. This issue is fixed in DataSpell 2022.3.2, so your typing will no longer get stuck in reverse.
Want to be the first to know about new features and get DataSpell and data science tips? Subscribe to our blog and follow us on Twitter now! If you encounter a bug or have a feature suggestion, please share it in our issue tracker.
The DataSpell Team
Subscribe to Blog updates