Early Access Program
Features
IntelliJ IDEA 15 EAP Supports Grails 3
If you are a Grails developer, you'll be happy to know that IntelliJ IDEA 15 EAP brings the long-awaited support for Grails 3.  Now you can enjoy both: the latest features of your favorite web framework, and the coding assistance of your favorite IDE: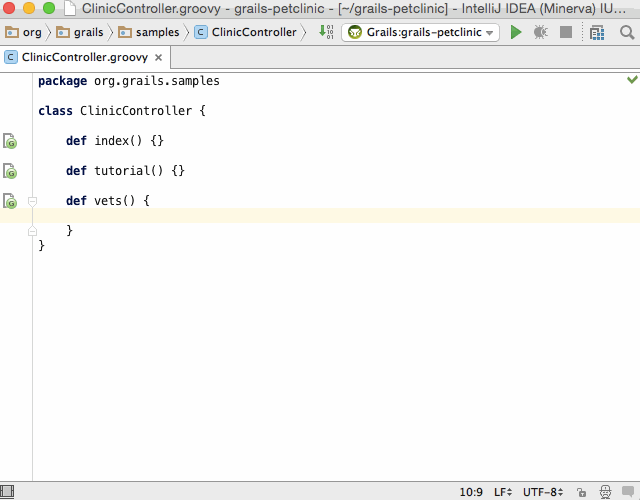 Coding assistance also includes navigation between your injected dependencies: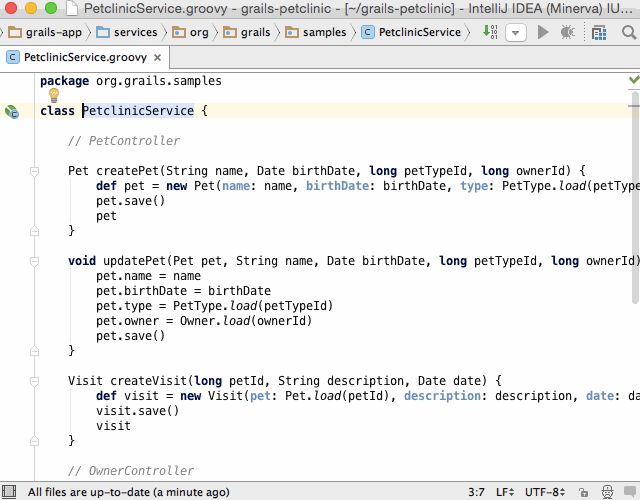 Note: to enable this feature in the latest EAP build, you have to manually define the conf/spring/resources.xml file. In the next EAP build, this will work out of the box.
Since Grails 3 is built on Spring Boot, to run or debug your Grails application, you can simply run/debug your main method:
The old Grails run configuration accepting the Grails command line (e.g. run-app) is still there if you need it.
Since Grails 3 uses a new Gradle-based build system, Grails support fully leverages the IntelliJ IDEA Gradle integration: project dependencies are resolved automatically, you can run Gradle tasks, and rely on coding assistance when editing build files:
The current support also has its limitations:
The IDE doesn't provide Grails Shell
Creating a new Grails 3 project is done via a separate item in the Project Wizard (and you still have to specify the path to your Grails SDK).
We drop the Grails tool window. We're sorry about it, but for now we've decided to focus more on the in-editor coding assistance. Still we plan to come up with a view that is unified for all MVC frameworks in the future.
Download the latest IntelliJ IDEA 15 EAP build, give it a try, and share your feedback with us by writing to our discussion forum or submitting bug reports to the issue tracker.
Develop with Pleasure!
Subscribe to Blog updates