News
PhpStorm 7.1.4 maintenance update to support registration of JetBrains products using JetBrains account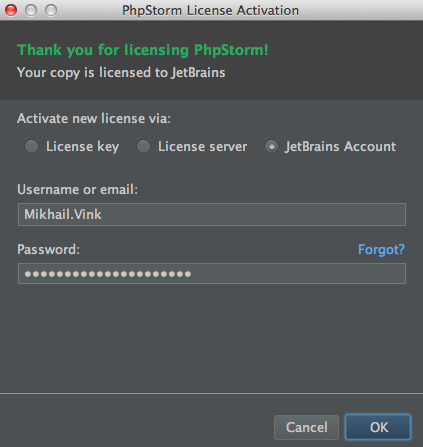 With PhpStorm 8 stable version around the corner (to be released by the end of Q3 2014, EAP version is available), we are publishing this PhpStorm 7.1.4 maintenance update to support registration of JetBrains products using JetBrains Account.
Install this update only if you would like to use the new registration process. Otherwise please skip it.
There are no changes in this build except JetBrains Account registration feature.

Download PhpStorm 7.1.4 build 133.1777 for your platform and please report any bugs or feature requests to our Issue Tracker.
No patch update from the previous stable version (PhpStorm 7.1.3) is available right now, as this update is targeting only those who would like to use JetBrains Account to register PhpStorm. It is not meant to be installed by all of the current users of PhpStorm 7.1.3. Please stay tuned, PhpStorm 8 is coming!
Develop with pleasure!
-JetBrains PhpStorm Team
Subscribe to Blog updates