PHP Annotated Monthly – February 2017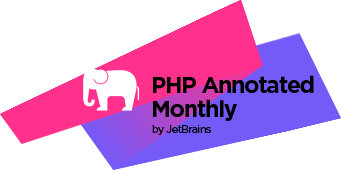 As 2017 gets going, let's take a look at everything of interest in the PHP world, with Gary Hockin, Developer Advocate for PhpStorm at JetBrains.
Don't forget: you can now get PHP Annotated Monthly delivered to your inbox, so you'll never miss the monthly roundup again. Sign up here and get next month's PHP Annotated Monthly delivered right to you.
PHP and Development
As I say every month; now is the time to upgrade to PHP 7. PHP 7.2 is actively in development, and there's never been a better excuse to upgrade. Upgrading is not as difficult as you may think.
Notable posts in PHP this month include:
Frameworks and Libraries
The biggest news in the last month is the release of Laravel 5.4 (a big release in Laravel's versioning system). Congratulations to all involved. Their new acceptance testing tool, Laravel Dusk looks amazing for not only simple browser testing but also testing more complex pages and JavaScript interactions. The other interesting posts are:
Community, Career, and Events
Sadly, the excellent service for receiving open calls for papers right to your inbox – The CPF Report, has closed its doors. In the short term then, until another tool fills the gap, here's a list of PHP conferences with an open CFP:
Some of these links go to the joind.in page – an excellent source of open CFPs. Other community links are:
Thanks for reading, you'll notice we've gone for a slightly different format again this month – there's less of me writing and more links, let us know what you think.
Have a great February, and we'll see you again next month.
— Gary & The PhpStorm Team
Subscribe to Blog updates