Early Access Program
PhpStorm 2018.2 EAP build 182.2949.27
The new PhpStorm 2018.2 EAP build (182.2949.27) is now available! You can download it here or via JetBrains Toolbox App. Or, if you have the previous PhpStorm 2018.2 EAP build (182.2757.22) installed, you should soon get a notification in the IDE about a patch update.
This build delivers new features, bug fixes, and improvements for PHP and the Web, and includes the latest improvements in IntelliJ Platform.
Custom postfix completion templates
Postfix code completion has existed in PhpStorm since version 9, but has only provided a limited number of predefined templates. PhpStorm 2018.2 brings the postfix completion to the next level by allowing you to create a custom postfix completion templates. This will help you to create templates in line with your project and your coding style.
To add a new postfix template, open Preferences | Editor | General | Postfix Completion, press "+" , select PHP, and compose your template. You can use the $EXPR$ variable, which will capture the expression before . (dot), and the $END$ variable, which will define the position of the caret. If you need to apply the template to the whole expression and don't want to select the scope for it, simply enable the "Apply to the topmost expression" option.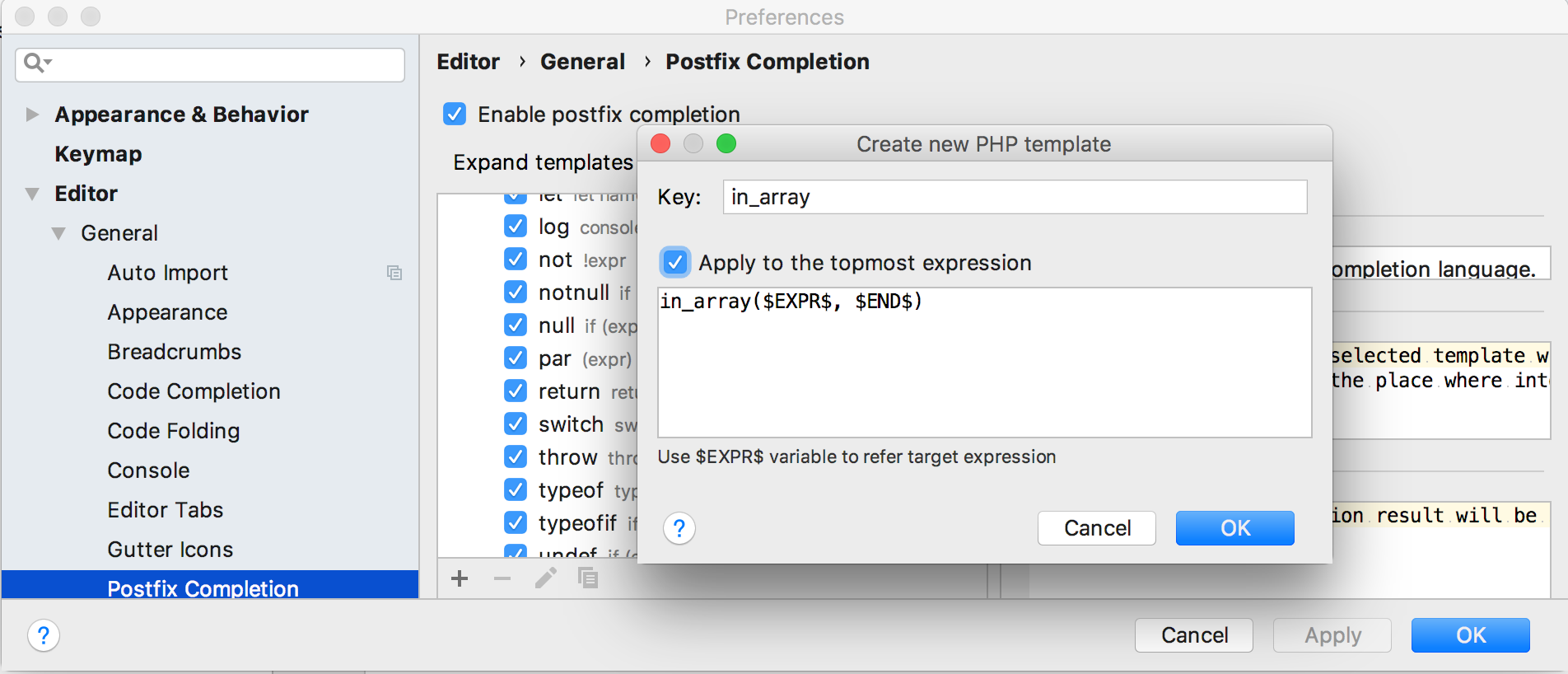 HTTP Client: Support environment variables in the request body
We continue improving HTTP client, and in this build, we've added the support for environment variables in the request body. You can use environment variables directly inside the HTTP files or in the files that you've included as the request body. We've also made sure that there are no misleading syntax errors by passing the actual values of variables into the corresponding parsers.
Apart from new features, this build brings many major bug fixes and usability improvements, including these:
See the full list of bug-fixes and improvements in our issue tracker and the complete release notes.
Future plans
Use the board here to view the up-to-date list of the features planned for 2018.2 release, as well as discovered bugs. The list only reflects our current plan and is not final. It may be revised during development since new issues may appear and existing may be re-planned to appear in later versions. Please share your opinions on what is important to you and what would you like to see in the new version!
---
Download PhpStorm 2018.2 EAP 182.2949.27 for your platform from the project EAP page or click "Update" in your JetBrains Toolbox App. And please do report any bugs and feature request to our Issue Tracker.
Your JetBrains PhpStorm Team
The Drive to Develop
Subscribe to Blog updates