News
RubyMine Momiji EAP: Stylus Support
Hello everyone,
We are happy to announce that RubyMine Momiji EAP build 130.1770 is available for download.
Apart from code insight bugfixes and improved git gems support this update delivers requested support for Stylus, expressive and robust CSS preprocessor. Please note that this update doesn't support Stylus completion yet, but it's on the way, so stay tuned.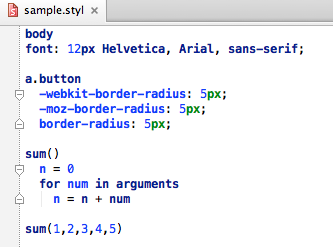 Take a look at the release notes and download the RubyMine Momiji EAP build 130.1770 build to try it out. Please feel free to report any bugs and feature requests to our issue tracker.
Subscribe to Blog updates