News
RubyMine Hinoki EAP: JBuilder Views & Better Slim Support
Hello everyone,
Time flies, we've survived another winter and meeting the new spring. And we're getting closer and closer to the next RubyMine release. Today we're glad to announce the next chunk of Hinoki features. Please welcome build 135.433 of the Early Access Program.

Better Slim support
With this version the embedded code types are supported in Slim templates: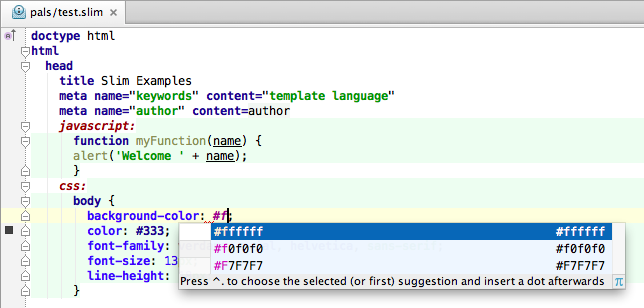 Supporting json.jbuilder views
Syntax highlighting and Ruby code insight are now available for json.jbuilder files:


And, finally, we fixed the very annoying bug: gems installed in local BUNDLER_PATH could now be found. Please visit release notes page for more details and screenshots and download the EAP build to try it out.
Have a nice spring holiday! And we're looking forward for your feedback as usual.
—
Develop with pleasure!
JetBrains RubyMine Team
Subscribe to Blog updates