JetBrains
News
Teams
JetBrains' 11th Annual Hackathon
Every year at JetBrains, we gather together to celebrate a part of the culture we have embedded into our DNA. It is a culture of innovation, of challenging the norms, of trying to achieve what others deem impossible, of problem-solving, of learning quickly and iterating. We live in this culture every day, but it is magnified during these events.
Teams of people from different backgrounds and different specializations came together for our 11th annual Hackathon to put themselves and their ideas to the test in a span of 48 hours. The theme of this year's Hackathon was "Code Around the World" to represent the fact that we have offices and a team around the globe accomplishing things that haven't been done before.
The Hackathon in numbers:
198 participants
69 projects started
52 projects finished
48 hours to complete
10 prize winners
5 minutes to present
868 votes

There were three project categories, which were defined based on which areas the company considers most promising and where there is the greatest potential for product development. After all, the Hackathon is just the beginning for some projects.
Individual development tools
The developer experience is close to all our hearts. This category was an opportunity to challenge assumptions and try to improve day-to-day workflows. New integrations, new features, new automation – everything and anything to make better tools for development.
Winner
Memory Notebooks
This project raises the bar of memory profiling and analysis. The intention was to develop a library that handles .hprof memory dumps, enabling querying of the object graph and comprehensive memory usage analysis while seamlessly integrating with Kotlin Notebook.
Machine learning
Machine learning is happening at breakneck speed. This was an opportunity to experiment with it on the cutting edge and be bold, dare to try something new, and envision tools that revolutionize the way we can help our users accomplish their day-to-day tasks.
Winner
Text-to-action IDE assistant
We are only just getting started with the new AI Assistant available in our IDEs. This project took a look at bridging the gap between the IDE and the world of natural-language queries.
The text-to-action IDE assistant provides AI Assistant with the ability to recognize queries that can be solved using an IDE action and the possibility to trigger that action right from the chat.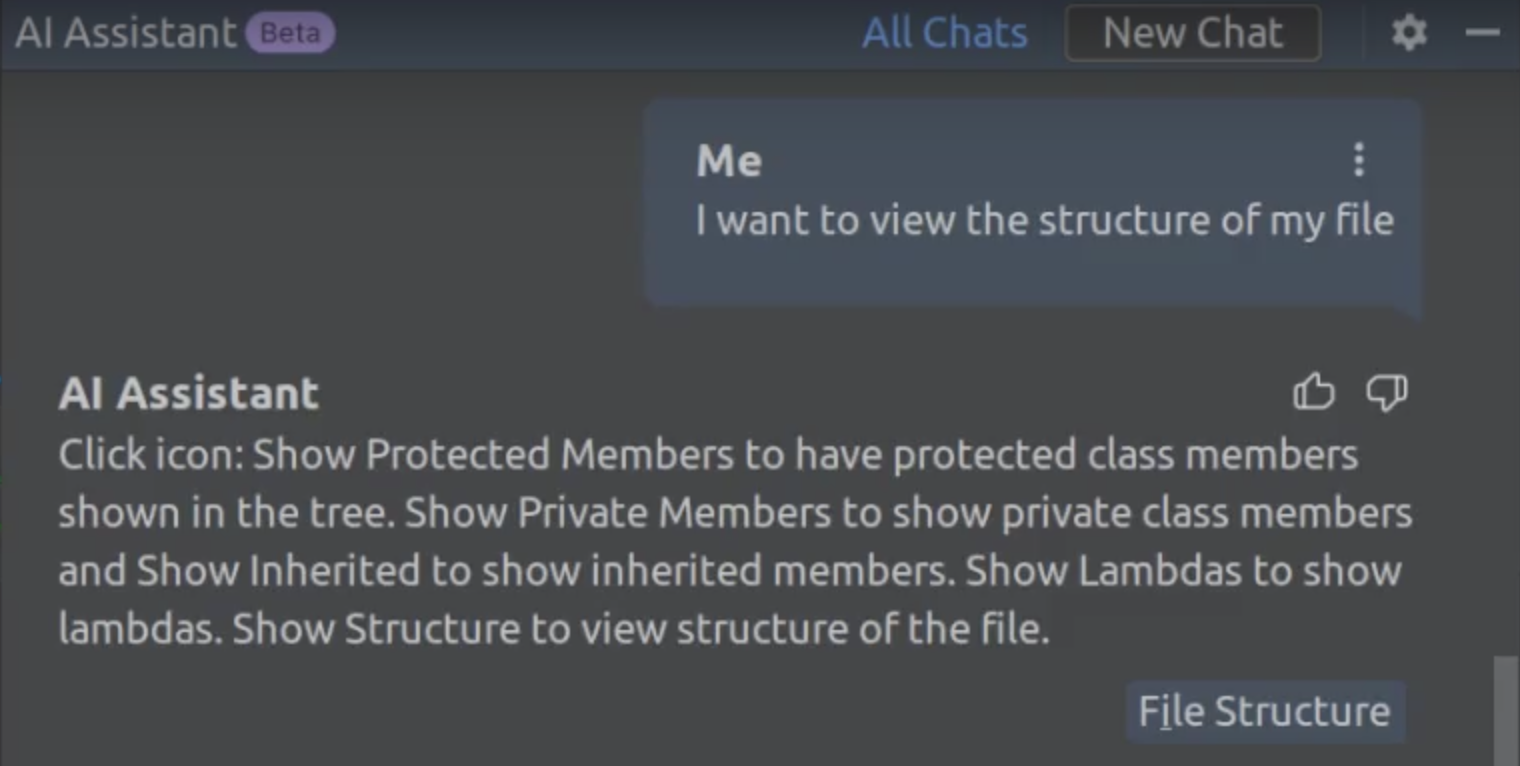 Team tools
"Teamwork makes the dream work," as they say. It is important that teams can function at their best. This category gave hackers a chance to explore inventive strategies to supercharge our existing team tools or explore ideas for driving up productivity, improving project management, and streamlining the software delivery flow.
Winner
OutSight
This project created a source code sharing service integrated with IntelliJ-based IDEs to help instantly share a piece of code including code insights with colleagues and friends on social networks and messaging platforms. Each shared piece of code is accessible via a link and looks and feels like it is in an IDE.
Hackathon Trophy winner
Winner
Unified Entry Point for Internal Knowledge Sharing
Because the company has grown so much over the last several years, it has become more and more important to help the process of knowledge sharing. The team worked on a tool to streamline the process of finding relevant information, enhancing internal knowledge sharing and collaboration, and decreasing the time spent searching for information. JetBrains employees can now use a curated collection of links to all things JetBrains in order to find information from various corporate sources, including YouTrack, Slack, Google Docs, Miro boards, Space, and more.
That's it for this year's Hackathon. We hope you got some inspiration from the winning projects and are excited about what's to come from the team in the future! But for now, we'll leave you with this final thought: Everything is impossible until it is done.