Events
News
Extending Java with MPS – Workshop at Code Generation
Join JetBrains MPS team April 10th – 12th at Code Generation 2013 in Cambridge, UK.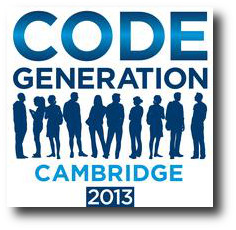 In its 7th year, Code Generation is Europe's leading event on Domain-Specific Languages, Model-Driven Software Development and Language Workbenches. This year there will be 30 sessions spread over 3 days and includes a half-day hands-on MPS workshop with Vaclav Pech and Timur Abishev of JetBrains.
We invite you to attend our workshop on the first day of the conference and stop by our booth to learn more about the planned MPS 3.0 release.
Extending Java with MPS
Wednesday, April 10th, 11:00 – 15:00 with a break for lunch
Domain Specific Languages allow you to write code in the domain-expert's lingo. Along with many advantages this brings about several challenges, like notation ambiguity or lack of editor support, that need to be addressed in order for you to benefit fully from the concept. JetBrains Meta Programming System (MPS) is an open-source framework addressing the task of creation, extension and combining DSLs. Primarily focused on IDE/code-generation aspects of new languages, MPS allows you to create extensions to existing languages and use newly created custom language constructs in your code. JetBrains MPS pioneers the Language Oriented Programming (LOP) concept, which is gaining increasing attention today.
Attendees are expected to work with their own laptops or to share a laptop. The presenters will supply memory sticks with recent versions of all the tools that will be needed. However, delegates should have Oracle's JDK 1.6 installed for all code to work smoothly.
Note: Places are limited on this session and will be allocated on a first-come first-served basis.
Have Your Language Built While You Wait
Thursday, April 11th, 13:00 -14:30
Join Václav Pech and other craftsmen who will be available to help you start prototyping your own language. "Imagine the scene: master craftsmen await, hands poised over mouse and keyboard, ready for you to describe your domain. Together you draft out a prototype language for that domain, seeing it grow as they implement it in their tool. If you want, they might even give you the controls and let you get the feel of things yourself. When the whistle blows after 20 minutes, the work is saved for you and you move on to another craftsman, a different tool, and maybe an entirely different approach. Think of it as high tech speed dating, but without the crushing humiliation."
About the Presenters
Václav Pech
is a programming enthusiast who's constantly seeking ways to make development more effective and enjoyable. He's particularly interested in server-side Java technologies, distributed systems, parallel programming, agile methodologies, modern programming languages and DSLs. He works for JetBrains as a senior software developer and a technology evangelist. More at
http://vaclavpech.eu
.
Timur Abishev
, who obtained his Masters degree from St. Petersburg State University, has been part of the MPS team for more than two years. Thanks to his involvement in different parts of MPS core, he has in-depth knowledge of the system as well as the related conceptual domains. He was recently busy improving the smoothness of the MPS projectional editor and bringing it on par with text-based IDEs.
For more information on Code Generation 2013, please visit http://codegeneration.net/.
Subscribe to Blog updates