PHP Annotated Monthly – March 2017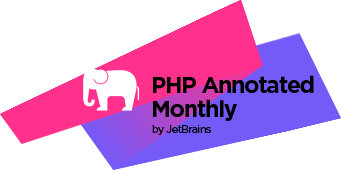 Spring is in the air and PHP 7.2 is shaping up as Gary Hockin, Developer Advocate for PhpStorm at JetBrains, rounds up another month in PHP, in PHP Annotated Monthly.
Don't forget: you can now get PHP Annotated Monthly delivered to your inbox, so you'll never miss the monthly roundup again. Sign up here and get next month's PHP Annotated Monthly delivered right to you.
We had good feedback about the bullet lists last month. However, a few people felt that they would prefer a more ordered list, so we'll take that on board this month and try a slightly different format again in the Frameworks & Libraries section.
PHP and Development
Yes, I sound like a stuck record (or a dripping tap as my mother says), but really, now is the time to be running PHP 7 or newer. Lots of major packages are planning their PHP 7 only releases, and its only a matter of time before you can't use your favorite logging library or testing framework because you're running an old version of PHP. Upgrade now!
Frameworks and Libraries
In ordering theses posts, I've noticed how much more content there is around Laravel than any other library or framework. It's a testament to the Laravel community that they not only have some high-profile contributors blogging regularly, but also a healthy number of people blogging about their daily job. I know we are Laravel heavy this month (again), but I can only collate what I find. If you think I'm missing out your community or blog, then get in touch and let me know.
Symfony
Laravel
Zend Framework
Other
Community, Career, and Events
Some very interesting posts around community and careers this month. The first quarter is always very busy with conferences; I had a very nice time meeting people at PHP Benelux, Sunshine PHP and PHP UK. In March I'll be in Midwest PHP in Minneapolis; if you're there be sure to come over and say "Hi!".
If you're looking for open calls for papers, then you can do worse than checking the Joind.in website's list. It's also worth following  Calling All Paper which Tweets out a reminder just before a CFP closes.
That's it for another month – let me know what you think of the once again tweaked format – I'm happy to go back to the old style if people prefer it. Have a great March, and we'll catch up again in April.
 — Gary & The PhpStorm Team
Subscribe to Blog updates