PHP Annotated Monthly – June 2017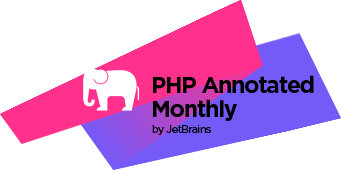 It's PHP Annotated Monthly time again! Join PhpStorm Developer Advocate, Gary Hockin, as he rounds up all the articles in the PHP community in June's Annotated Monthly.
PHP and Development
More PHP releases again, with versions 7.1.5 and  7.0.19 released. Here's your usual reminder to upgrade to PHP 7.1 as soon as possible, because PHP 7.2 is on its way!
According to this Tweet by one of the 7.2 release managers (and all around lovely person), Sara Golemon we can expect an alpha release of PHP 7.2 any time now.
https://twitter.com/SaraMG/status/870388305707368448
PHP 7.2 will have some great new features, keep your eye on this blog for a roundup once I've had a chance to look at the alpha in the coming weeks.
Other good posts on PHP and general development this month:
Frameworks and Libraries
We've got the usual slew of Laravel and Zend Framework posts, along with some interesting posts for WordPress, Yii and some more useful articles on Composer and Packagist.
Yii
Laravel
Zend Framework
Symfony
Other
Community, Career, and Events
There was an interesting interview with Taylor Otwell, creator and lead developer of Laravel tells us why Taylor Otwell Wants You To Build Your PHP Apps On Laravel. I also enjoyed an interview with Anna Filina On PHP Trainings And Future Of PHP Frameworks.
An interesting question is posed in Can 9-to-5 Developers Be Good Developers? While I disagree vehemently with some of the points made in the article, it makes for an interesting discussion.
This month I'll be at PHP South Coast in Portsmouth this week, and DPC in Amsterdam at the end of the month. Make sure you come and say "Hi!" if you see me at any events.
– Gary & The PhpStorm Team
Subscribe to Blog updates