News
PHP Annotated – October 2022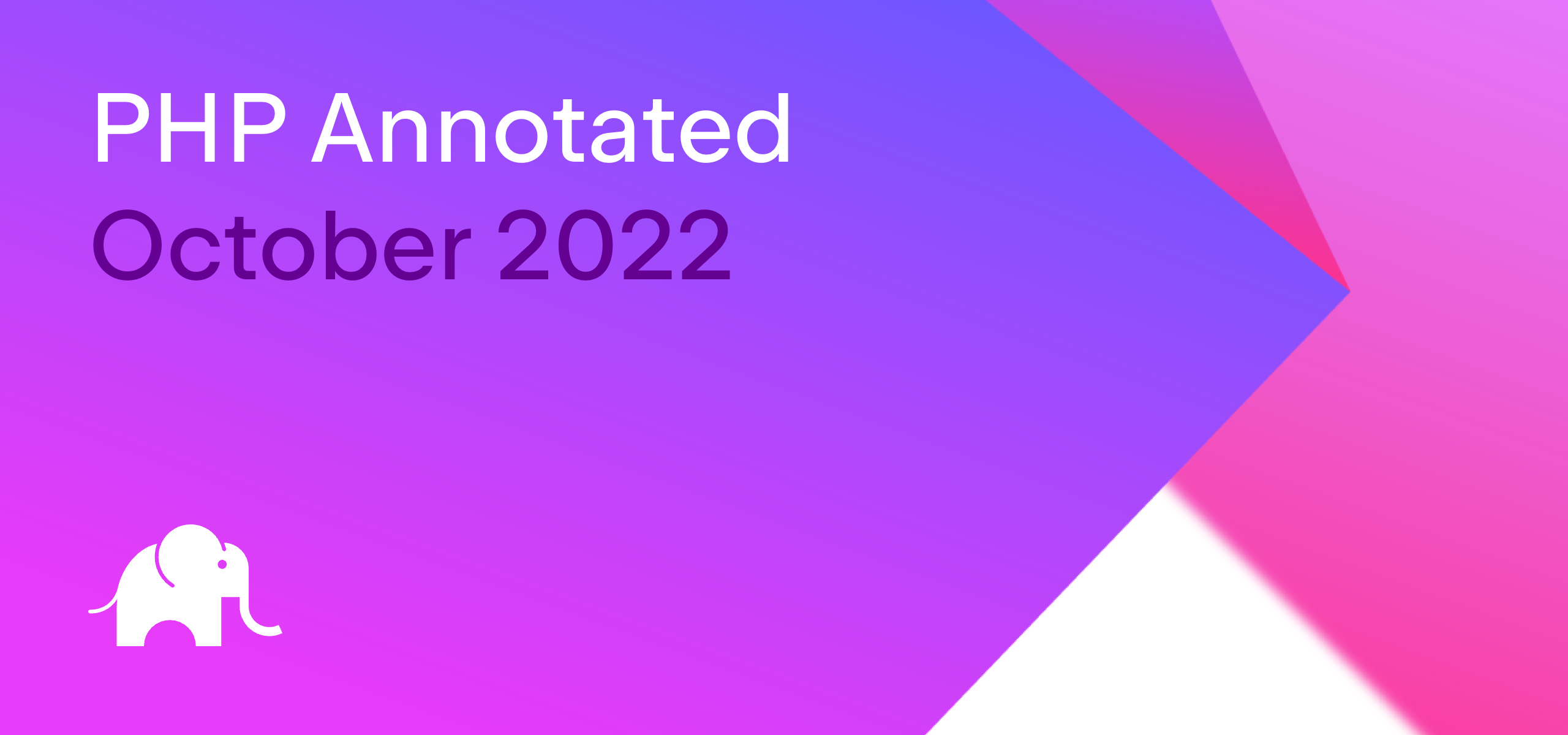 Greetings everyone!
Welcome to the October installment of PHP Annotated, where we'll catch up on the most exciting things that have happened in the PHP world over the last month, including curated news, articles, tools, and videos.
News
PHP Core
Most of the Core news is covered in detail in the PHP Core Roundup series from the PHP Foundation, so we'll only mention it briefly:
Tools

Symfony
Laravel
Misc
Why I Don't Enjoy Writing PHP Anymore by Michael Bodnarchuk – Despite its click-baity title, this post raises a constructive concern regarding backward compatibility breaks in PHP versions.

One of the Composer's authors, Jordi, posted a tip that might help work around some of the upgrade problems:

Also, please for safety use –ignore-platform-req=php+

With the plus sign it allows using php 8.2 where 8.1 is required by a pkg, but not using php 8.0 if 8.1 is required.

— Jordi Boggiano (@seldaek) October 4, 2022

All the Easter Eggs in PHP by Ayesh Karunaratne.
Pragmatic development 3: Telegram bot by Vladimir Martsul.
Loosely coupled Microservices in PHP by Dariusz Gafka.
Unpacked, named and positional arguments are in a call… by Damien Seguy.
Extrinsic sorting: A benchmark by Larry Garfield – In which he explains priority, group, topological, and other non-trivial sortings.
Contract Tests by Kai Sassnowski – Guidance for writing tests to ensure consistent behavior across all implementations of an interface.
PHP preload VS running as a daemon (RoadRunner) – Benchmarks by Pavel Murzakov.
Supporting Legacy PHP project: painless switching to cloud storage by Vlad Reshetilo – A neat trick for using PHP's native stream API.
How to build your next PHP project with a touch of AI by Benjamin Crozat.
Modern PHP features explained – PHP 8.0 and 8.1 by Steve McDougall.
Using PHP enums as method calls by Thorsten Suckow-Homberg – Dynamically mapping method calls to existing typed values – what a neat and unexpected usage of enums.
Videos
Conferences
Check out these upcoming big PHP gigs, and consider visiting or submitting a talk idea:
And if you are wondering when the next PHP meetup is, Tomas Votruba has got you covered with his lovely friendsofphp.org meetup aggregator. There is also a calendar on php.net – Events: November 2022.
---
That's all for today, thanks for reading!
If you have any interesting or useful links to share via PHP Annotated, please leave a comment on this post or send
me a tweet.
Your JetBrains PhpStorm team
The Drive to Develop

Subscribe to Blog updates