News
New Year's Eve with New RubyMine 4 EAP!
New Year is coming!
We're licking our chops to make the next significant release at the first quarter of 2012. And in these last days of the year we want to make a small gift to farewell the old year.  We are glad to announce the last EAP of 2011 with some celebratory changes.
Ruby Class Dependency UML Diagram
You might remember that we already have a model dependency diagram for Rails projects. One more diagram is available now showing relationships between any classes and modules in UML notation. The new diagram can be opened in a pop-up or in editor mode. The first one can be invoked by Ctrl+Alt+U/⌘⌥U or from the class context menu. It gives a brief structure overview:
The editor mode can be invoked by Ctrl+Alt+Shift+U/⌘⌥⇧U or from the class context menu as well. It provides more facilities, for instance different types of class members can also be observed: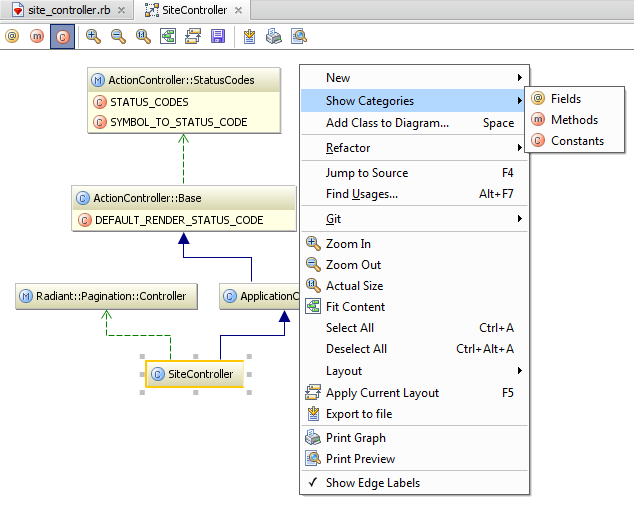 In editor mode you can also add (by hitting Space) or delete (by hitting Delete) classes from diagram:
New Design of Project View Toolbar
In this EAP we also have made a small though pretty UI improvement. Take a look on how project view toolbar has changed:
For more features please read the release notes or just download and try the new build. You can also read about RubyMine 4.0 features implemented for the moment on our site.
Thank you for staying with us and see you next year.
Happy New Year and Christmas time!
—
Develop with pleasure in 2012!
JetBrains RubyMine Team
Subscribe to Blog updates