News
RubyMine 4.0 EAP: More Strength for HAML and CoffeeScript
Hello everyone,
The next RubyMine 4.0 EAP (112.219) is already here. We have some novelties I want to tell about.
HAML
First of all there are good news for those who prefer HAML to RHTML.  From today you can take an advantage of full HTML code insight support in HAML files. Auto-completion is available not only for tag names, but for tag attributes and CSS/SCSS/LESS class names as well: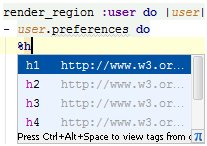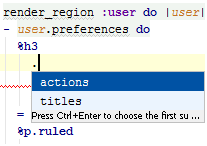 Special HAML view on Structure panel helps not to get lost in a file:
CoffeeScript
We hope CoffeeScript users will also be pleased with a new feature that allows launching .coffee files via Node.js. You can either run a .coffee file from context menu or create a run configuration. Before the first launch please follow set up instruction.
For more details and screenshots please go to release notes. For download please visit RubyMine 4.0 EAP page.
Looking forward for your comments!
—
Develop with pleasure!
JetBrains RubyMine Team
Subscribe to Blog updates