Events
News
GOTO Chicago, April 23-26: Get a JetBrains Discount
GOTO Conferences have been running in Europe for more than 16 years and this will be the first GOTO Conference in the United States. GOTO Chicago is set to take place April 23-26 in downtown Chicago and includes 2 Training Days and 2 Conference days featuring 30+ speakers.
Save $150 on a Conference Pass
JetBrains has a special discount code if you would like join us at GOTO Chicago. Save $150 on conference registration by entering this code upon
registration
: hari150
JetBrains is a sponsor of GOTO Chicago, and Hadi Hariri, Technical Evangelist from JetBrains, will be presenting and training at the event. Check out the following presentation and training sessions with Hadi:
[CANCELLED] Training – ReSharper Inside Out
Time: Thursday, April 25th from 09:00 – 16:00 / Location: Training 3
In this full day workshop, we're going to refresh your knowledge about mainstream ReSharper functionality, and learn about many of the overlooked features of ReSharper. Beyond the simple navigation, we'll learn how to effectively navigate legacy codebases using advanced navigation features, inspections, usage search, and value/call tracking.
We'll learn about using some of the less known yet very useful automatic refactorings that ReSharper offers. We'll dive deeply into code inspections and learn not only how to configure them but extend them using Structural Search and Replace. We'll create and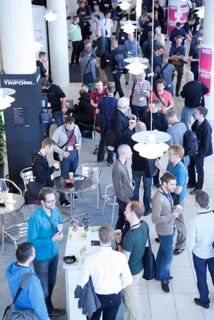 extend all the different types of templates ReSharper offers, as well as learn how to do effective TDD/BDD. We'll also dig into the configuration features ReSharper offers and seehow to effectively configure ReSharper for yourself, your team and your company.
After getting a firm grip of everything ReSharper offers, we'll get into extending ReSharper. After an overview of ReSharper's architecture, we'll see how we can extend it using ReSharper SDK, learning about the different types of extensibility points that ReSharper offers. And if all that isn't enough, we'll top it off with some of ReSharper's best kept secrets!
Warning: This is workshop is not for the ReSharper newbie. Pre-requisite: Laptop. Mouse must be left at home and touchpad disabled!
Being an Anti-Social Geek is Harmful
Time: Tuesday, April 23rd from 12:10 – 13:00
Developers are not known for their social skills. They're more characterized as geeks, centered around coding. This is not only depicted in movies but also promoted within the community itself. Might seem harmless and fun at times, but it is actually a source of many problems when it comes to working on teams and dealing with customers, and by justifying this kind of behavior, all we're doing is promoting it.
Learning to communicate with team members and customers is fundamental in being successful. Developers need to learn how to be social. In this talk we'll discuss some of the issues and find ways to solve them.
Register today and save $150 on the conference pass (promo code: hari150), and be sure not to miss the ReSharper Inside Out Training workshop.
Subscribe to Blog updates