Backstage
Videos
JetBrains' St. Petersburg R&D Lab Grows, Moves to New Office
Expanding quickly over the last two years, our St. Petersburg team finally outgrew its office earlier this spring. In May 2013, we left the 'Times,' a four-story office building on Kantemirovskaya street that had served us well since 2004. Our new home is a seven-story office building сalled 'Universe,' located on Vasilyevsky island. This has led to a running joke in the company: 'Having conquered Times, we've now set our sights on the Universe.'
Enjoy this Sunday Office video tour by Roman Belov and learn more about our St. Petersburg office in the pictures and descriptions below:
With a total area of 6,400 square meters (68,900 square feet), the new office can accommodate up to 500 employees giving us more room for further growth, as current staff is around 300. Yes, our big plan is to fill the entire Universe!
JetBrains new research and development home "Universe" in St. Petersburg, Russia
Main office entrance and cafe with summer terrace
Reception area at "Universe"
Rooftop view of St. Isaac's Cathedral
Located in the historical city center, Universe offers stunning views of the Peter and Paul Fortress, St. Isaac's Cathedral, the St. Petersburg Academy of Arts, the State University, and the sea docks.
The office turned out really cozy and our teams quickly embraced the new surroundings and new atmosphere. Each floor is different, with its own color and other 'features' like relaxation areas, phone booths and such.
Spacious, well-lit working spaces
Coding in bliss…
Who said you needed a desk to code?
IT department swamped with work
In addition to working spaces for a dozen project teams, the office includes a conference hall, a lecture hall, a summer terrace, several meeting rooms, a cafe, coffee points on every floor, a library, gym, and music room, all under one roof. There's also the office legend, JetCat Tuzik, who loves wandering around the ground floor and finding places to sleep.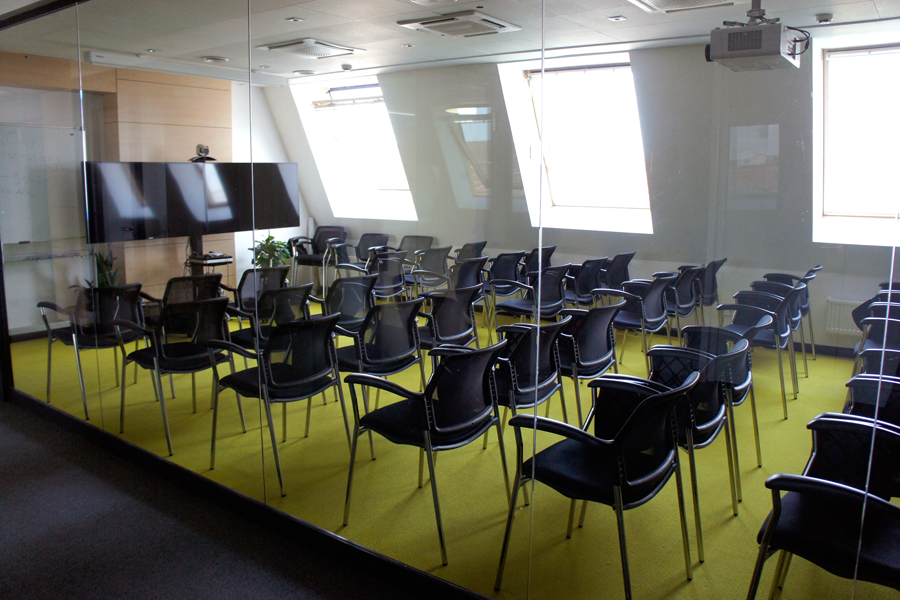 Lecture hall on the 7th floor
Yellow meeting room
Every floor looks different
Private booths for personal calls
One of the many relaxation areas in the office
But some people refuse to rest
Break hall on the 7th floor
The library
The music room
It's good to take a break and unwind
In addition to the hot meals there are always cookies
Each floor has a kitchenette where you can make yourself
a cup of coffee or tea and have a snack
A yellow 'coffee point,' as we call them
Everyone's favorite, JetCat Tuzik
We hope you enjoyed this photo tour of our new St. Petersburg office. Our offices in Prague and Boston have also moved recently, and we'll post about them as well. Do let us know what other parts of JetBrains life you'd like to explore, and we'll do our best to uncover them for you.
Work with pleasure!
~ JetBrains Team
Explore the area around our St. Petersburg office with Google Maps:
Subscribe to Blog updates