Early Access Program
GoLand
GoLand 2020.3 EAP #5 – Remote Debugging, Updates for Code Completion, and Bundled Code With Me
GoLand 2020.3 Early Access Program build #5 is out!
What's new in this build, and why should you try it?
Starting from this version, you can configure if a remote process should be stopped at the end of a debugging session when using the Go Remote configuration, the completion system is now even better, and Code With Me, our official solution for pair programming, is now available in the IDE by default. No more plugins needed! 🎉
Before we jump to the details of this release, let me remind you that you don't need to wait for the official EAP announcements, as we regularly release nightly builds based on the latest development code. These nightly builds are only available via the Toolbox App.
You can get this EAP build through the Toolbox App, by downloading it from the website, or by using a snap package (for Ubuntu). Or update from right inside GoLand by selecting Automatically check updates for Early Access Program in Preferences / Settings | Appearance & Behavior | System Settings | Updates.
Option to stop a process when debugging it with a Go Remote configuration
Back in EAP 2, we introduced a feature that lets you stop a process when debugging with a Go Remote configuration.
What's so special about this release then? Well, now when you launch the debugger with the --accept-multiclient option on the remote machine, you can use new options in the Run Configuration to ensure that the debugger will behave as you expect it to when you stop it. You can also control whether the debugger will always remember your decision when it comes to stopping the process or not.
Go code completion improvements
In this release, we are addressing three different issues:
GO-8259 Prefer the import paths that are defined in go.mod.
GO-8812 Collect info on preferable imports.
GO-9969 Add the ability to exclude specific libraries directly from the import context menu.
What does this mean for you in practice?
The IDE will now be smarter at prioritizing completion items for packages that you use frequently (thanks to the statistics that it collects about different import paths) or that are explicitly declared in the go.mod file of your project.
And what if you still get a package that you don't want to see anymore in your project import path? You can now stop the package from showing up in that list in the future using a context menu command.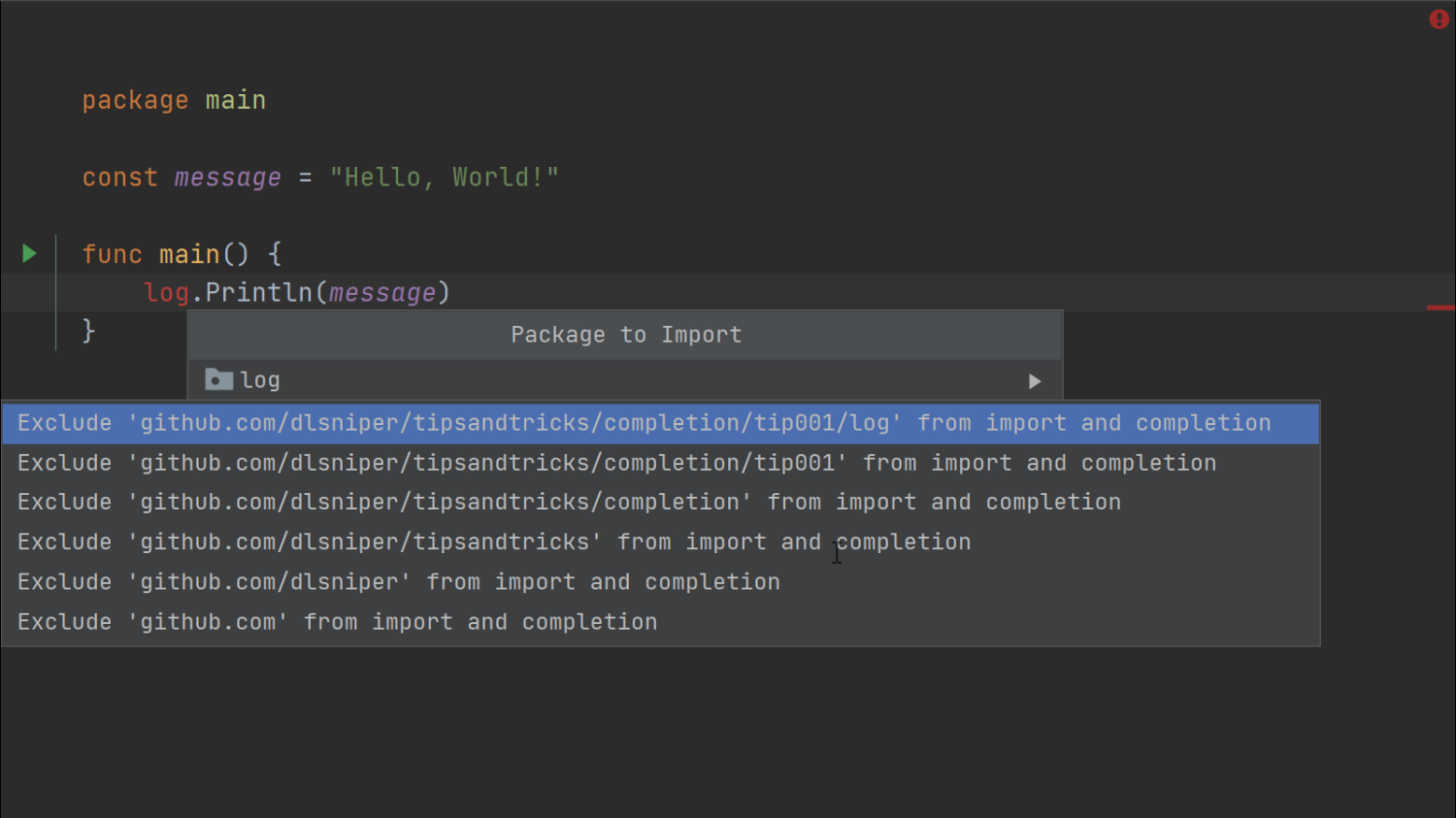 Code With Me is now bundled with the IDE
Code With Me is continuing to develop and improve, we are happy to announce that from today, you don't need to do anything else to start using it.
Now sure what Code With Me is? Head over to our announcement blog post. And catch up with all the new features in it, in this blog post. Oh, and, of course, you can run a relay server on your premises, learn here about doing that.
That's all for today! As always, your feedback is invaluable for improvements, so please send us your feature requests via the bug tracker or tweet us @GoLandIDE. Thank you!
Subscribe to Blog updates