Early Access Program
GoLand
GoLand 2021.2 EAP Build #6 Is Out With a New Setting Menu for Actions on Save and a Cleaned-up Welcome Screen
You can get this EAP build via the Toolbox App, download it from our website, use a snap package (for Ubuntu), or get it right in GoLand by selecting Automatically check updates for Early Access Program in Preferences / Settings | Appearance & Behavior | System Settings | Updates.
Starting from GoLand 2021.2 EAP Build #5, you can join the program only if you have an active JetBrains account. If you have already logged in with your credentials, you can access the EAP builds automatically. If you have not yet logged in, the IDE will redirect you to account.jetbrains.com where you can enter your login and password or create a new JetBrains account. Learn more in this blog post.
Clearer understanding of Go and GOPATH projects on the Welcome screen
As GOPATH-based projects are becoming less popular, previous names for projects aren't as suitable as they used to be. We have decided to bring everything in order on the Welcome screen, and made the Go project a default for Go modules, and GOPATH-based projects renamed to Go (GOPATH).
Actions on save
We've collected all possible on-save actions together in Preferences / Settings | Tools | Actions on Save. Now you can configure all of them there – just tick the checkbox next to the necessary action, and GoLand will trigger it on any save, including autosave and explicit save actions.
You can also configure the settings for any action more precisely. To do so, hover over it, click the configuration link, and fine-tune this action on the related settings page that appears.
Some of these on-save actions were already available via the ⌘S / Ctrl+S shortcut.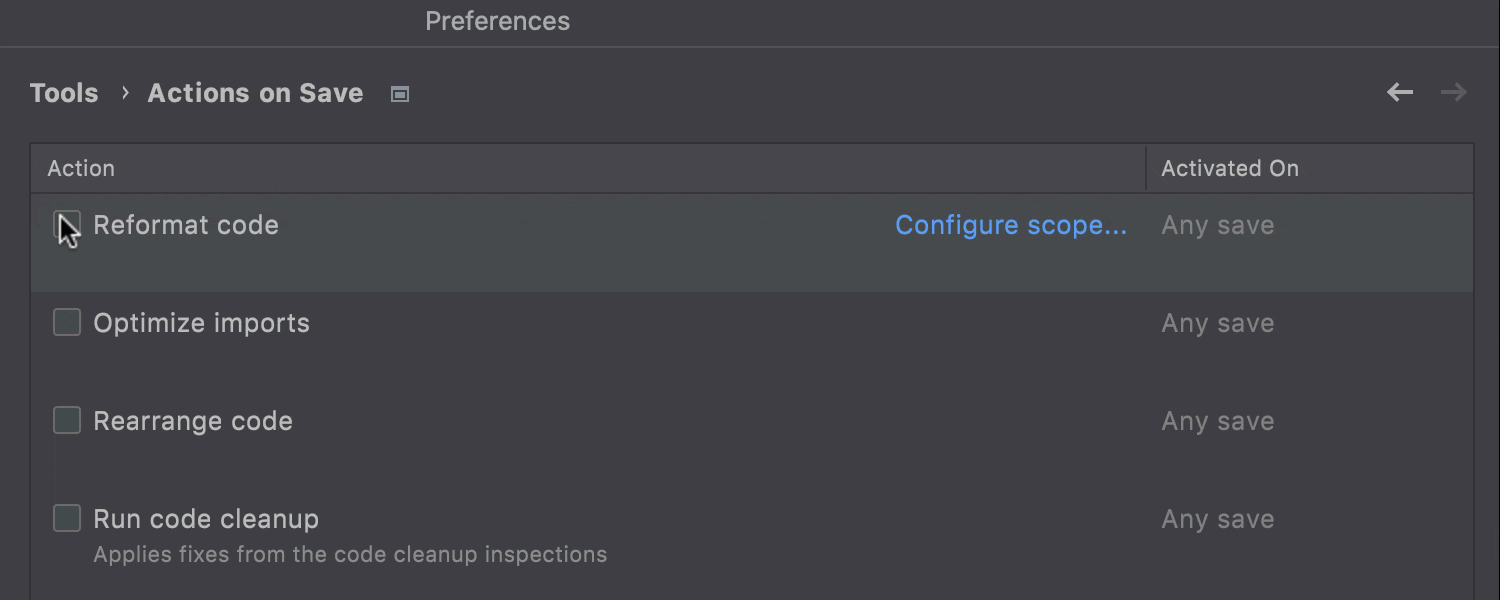 That's it for today! As always, we'd love to hear from you. Leave a comment here, tweet us on Twitter, open an issue in our tracker, or drop us a message in the Gophers Slack #goland channel. Thank you!
Subscribe to Blog updates