News
Live Webinar: Introduction to Automation: CI/CD in Space
Join us on October 6, 2020 for a free live webinar, Introduction to Automation: CI/CD in Space.
Space Automation, one of the most eagerly anticipated features among early adopters during the EAP, is now available to all our users. With Automation, you can run CI/CD activities in Space to build, test, and deploy your project.
During this session, JetBrains Developer Advocate Maarten Balliauw will introduce many of the concepts behind Space Automation. He will also discuss the automation DSL, running builds, publishing to the Space package registry, secrets and parameters, and much more! Evgeniy Koshkin, Automation Team Lead, will host a Q&A Session following Maarten's talk.
To make sure you don't miss any updates or reminders about this webinar, book your seat now!
How to ask questions
If you have any questions about Automation in Space, you can ask them now or during the webinar. To ask questions now, submit them as comments to this blog post. To ask questions during the webinar, please use the chat window.
We will try to answer all your questions during and after the session. If we run out of time, we'll try to answer any remaining questions in a follow-up blog post. We'll do our best to address all your questions.
Register now to join us Tuesday, October 6, 2020, at 4:00 pm CEST
About the presenters:
Maarten Balliauw
https://www.twitter.com/maartenballiauw/
Maarten Balliauw loves building web and cloud apps. His main interests are in web technologies and .NET. He is Developer Advocate at JetBrains and a frequent speaker at various national and international events. He also organizes Azure User Group events in Belgium. In his free time, he brews his own beer.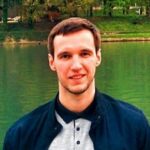 Evgeniy Koshkin
https://twitter.com/lodkin
Evgeniy is Space Automation Team Lead at JetBrains and father of two. His main interests are cloud technologies, distributed applications, security, and UX. In his free time, he likes to go hiking, play basketball, and chill with his family and friends.
Subscribe to Blog updates