News
Find Your Way Through Space With Personalized Navigation
Space is a platform for teamwork that combines many tools to help teams plan their work, administer workspaces, communicate, and develop software projects. Our mission is to create a comfortable work environment for everyone. Space aims to help you focus on what's important and minimize context switching, while keeping you updated on what's going on in your project and company as a whole.
Personalization is a tool that helps you stay up to date and in touch with your team without sacrificing your productivity. It also ensures that you're not distracted by unnecessary notifications or overloaded with information.
The personalized dashboard is a great example of how personalization works in Space. The dashboard is preconfigured to show information that is relevant to you and your work, such as your schedule, blog posts targeted at you, the projects you're involved in, and other information about the teams and people you follow.
The recent update applies the same concept of personalization to Space navigation. It puts you front and center, gives you more personal space inside your company, and helps you quickly access all the resources you care about from the new Personal Navigation sidebar.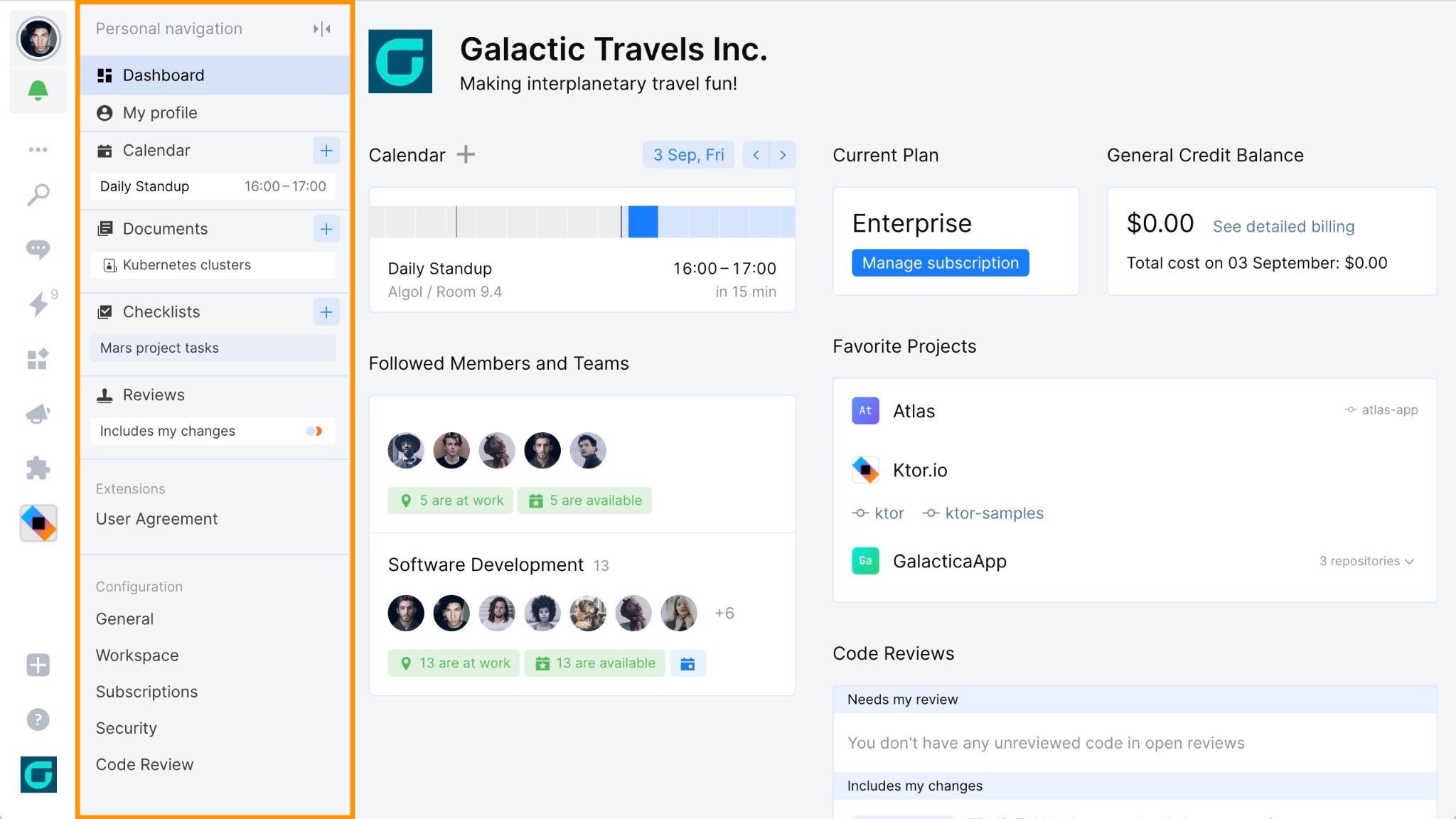 With the new navigation, you can:
Access all the resources related to you and the parts of Space that you visit most often from the Personal Navigation sidebar, which is available from any page in Space.
Pin your favorite documents to the Personal Navigation sidebar by marking them as favorites for quick access.
Never miss a thing – see upcoming meetings and code reviews that require your attention right in the sidebar.
Easily find the information about your Space organization, including your domain and subscription plan, by clicking your organization's icon in the main navigation.
Personal Navigation
The new Personal Navigation sidebar uses the same pattern as project navigation, which has proved to be a very convenient way to move around project entities. If you have used Space Projects before, you should be familiar with how it works.
Just like the Project Navigation sidebar contains all entities and resources associated with a project, Personal Navigation combines everything related to you: a shortcut to your personalized dashboard, your profile, calendar, documents, code reviews, and a few settings that allow you to configure your personal Space environment.
It also lets you access your favorite resources in a single click. All documents and checklists that you mark as favorites will also appear in your Personal Navigation sidebar so that you can quickly open them when needed
On top of that, the sidebar helps you keep track of upcoming meetings and code reviews that need your attention – they all appear right in the sidebar as small reminders.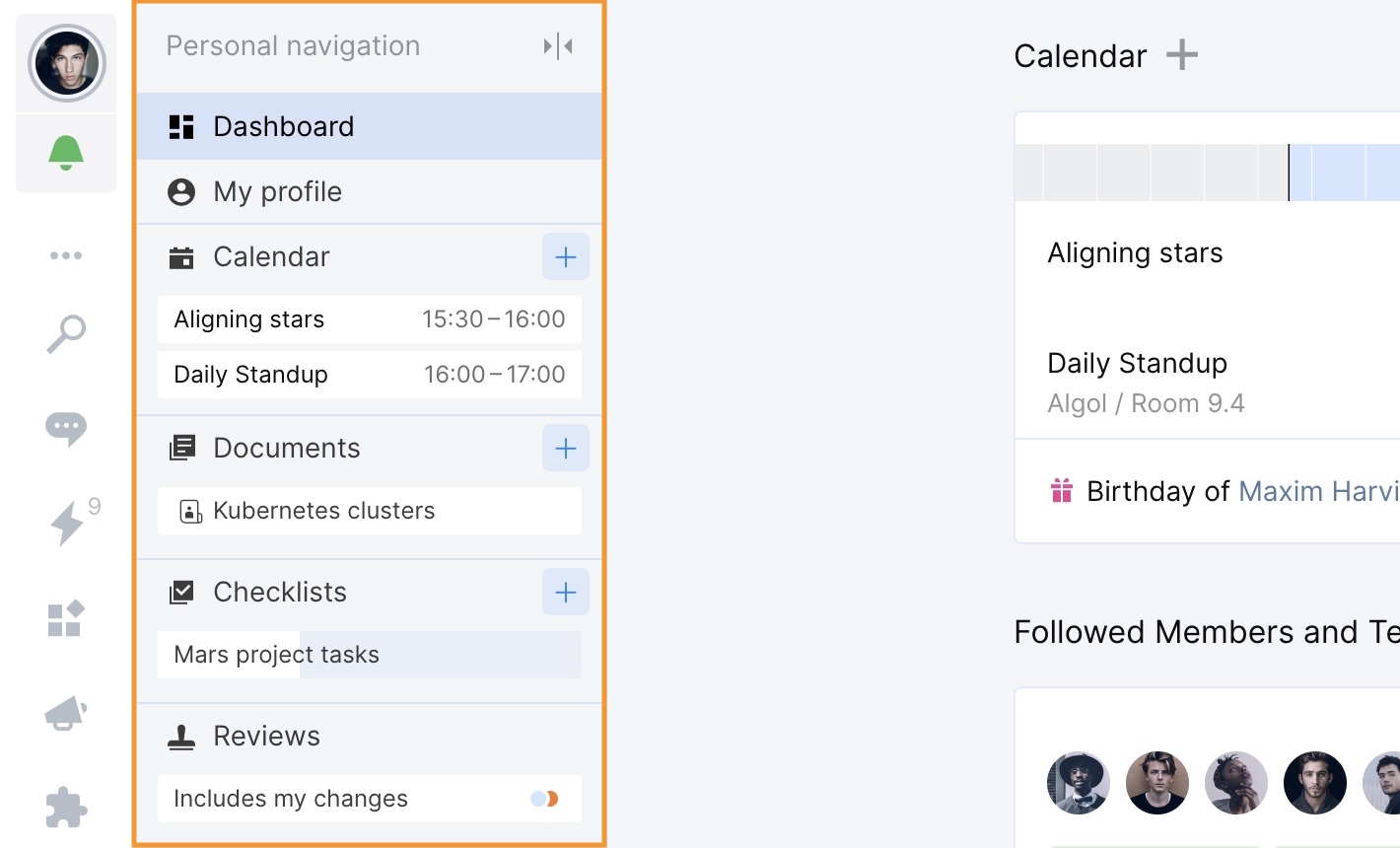 Finally, your Personal Navigation sidebar can be accessed from any part of Space. Simply click on the user icon in the top left-hand corner to open it.
Main navigation
We've introduced significant improvements to the main navigation sidebar, which lets you access key features in Space, including chats, to-dos, project tools, blog posts, and the team directory.
The most notable change is the user icon that now resides on top of the navigation sidebar. This reinforces the idea of your personal environment and places you in the center of everything that's happening in Space.
Next to your avatar, you'll find your availability status, which lets you pause or resume notifications hassle-free.
At the very bottom of the sidebar, you'll find your organization's logo. It offers you an easy way to access your workspace settings, see your current subscription plan, compare it to other Space plans, and log out of Space.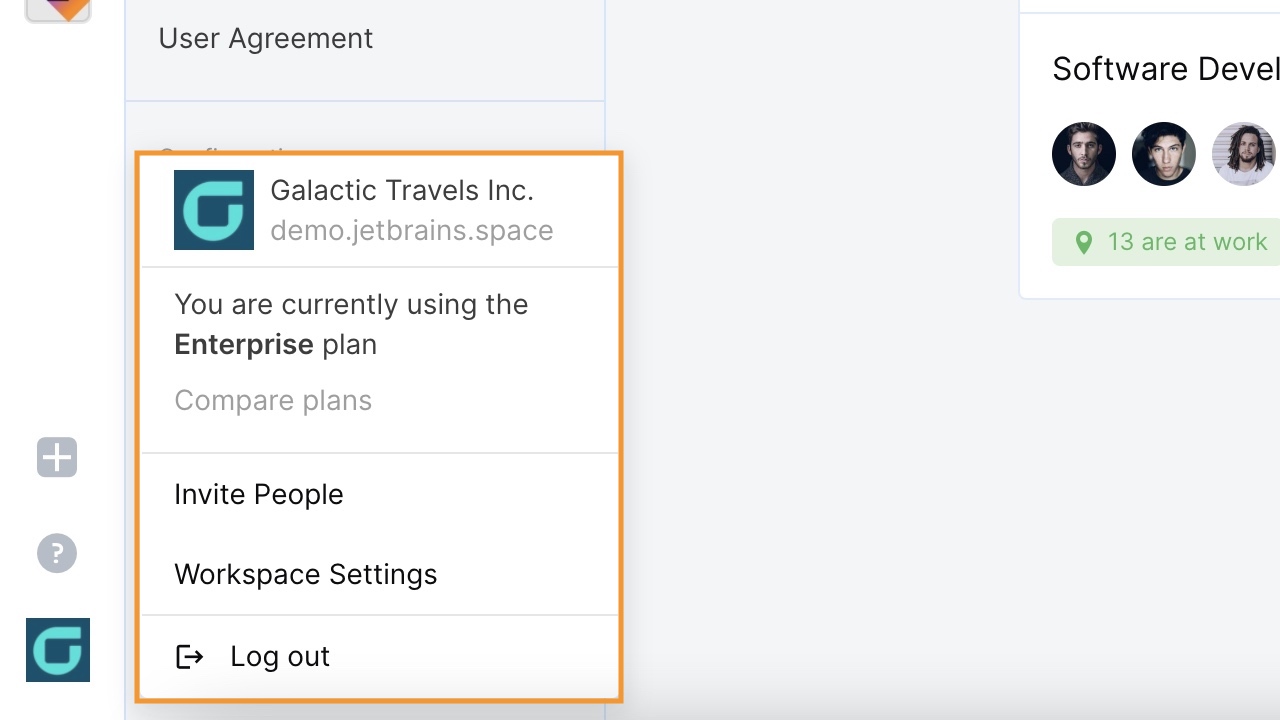 What's next?
Personalization is a powerful tool that helps you focus on your tasks and activities while aligning your efforts with others and keeping an eye on the bigger picture. That's why we'll be adding even more personalization across all parts of Space. We're now working on the ability to customize the list of items you see in the Personal Navigation sidebar. Our roadmap also includes the My Issues page, which will help you keep track of all the issues assigned to you across all projects in Space.
We really hope that the new navigation will help you find your way through Space more quickly and boost productivity. Give it a try and share your experience with us!
If you haven't signed up for Space yet, you can create a Space organization for free at any time.
Subscribe to Blog updates