Features
News
Releases
Introducing YouTrack Lite
YouTrack 2020.6 comes with an alternative Lite interface that provides a table view for your issues, a handy WYSIWYG text editor, and the ability to access recently viewed issues and articles. If you work simultaneously with multiple issues, or you find the Classic interface is a bit overloaded, or you don't use software development-related features like VCS integrations in your daily work, you definitely need to check out the new Lite interface!
About YouTrack Lite
An alternative to our YouTrack Classic, YouTrack Lite offers a streamlined interface for creating, browsing, and updating issues. It's designed to help you tune out distractions and focus on the task at hand. We believe this new interface will be especially useful for quick onboarding of new users, and for anyone who doesn't need the full set of YouTrack Classic features such as time tracking or VCS changes. Of course, we have also added something new.
Table view – everything you need, organized and at your fingertips
YouTrack Lite allows you to list issues in a fully customizable table view. You can manage the order of columns and decide which fields you want to see. There are two separate controls that determine which fields will be used for filtering issues, and which fields will be displayed in the table. A text search filter is also included.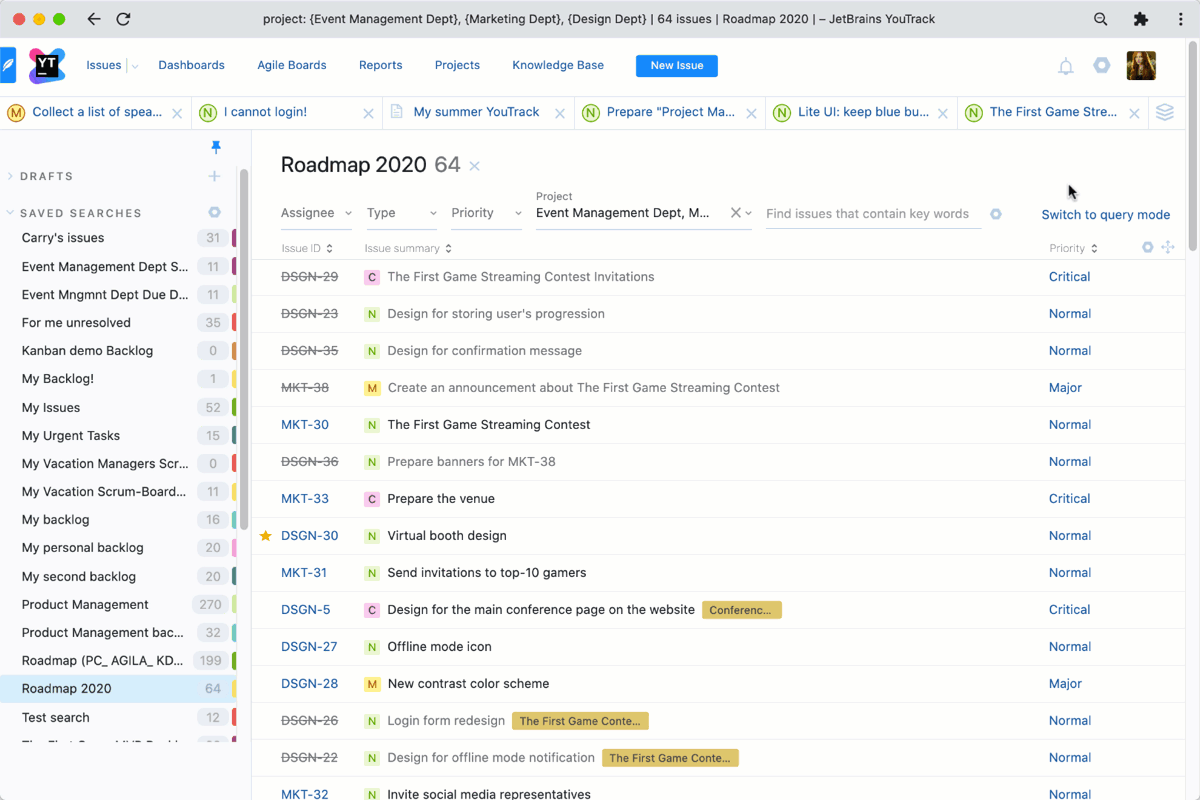 If you need more powerful search capabilities, you can always switch to query mode, where you will see the familiar search bar from YouTrack Classic with all its smart search features.
You can use your existing saved searches or build new ones. With just one click, you can save your new search and easily access it whenever you need it.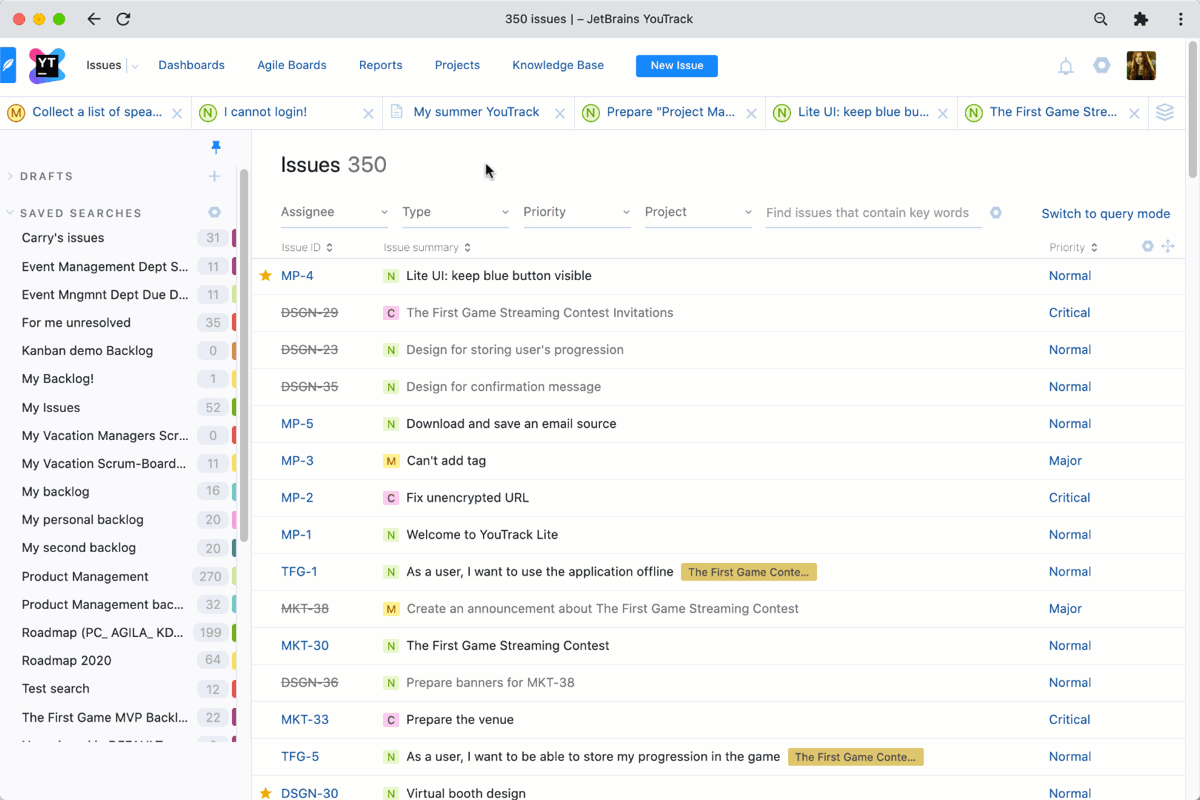 If you want to view the details of an issue, there is no need to switch between the issue list and the issue page. When you click on an issue, a quick issue view opens as a sidebar on the right-hand side of the screen. You can edit, comment, or update the issue right there on the quick view panel without losing sight of the issue list.
WYSIWYG text editor for issues and comments
There's a button for everything! You no longer need to remember the tag combinations to make text bold or to insert a checklist. In addition to the familiar Markdown editor, YouTrack Lite has a new WYSIWYG editor for issues and comments. This means that you can add tables and checklists, and apply text formatting to make your content more visually appealing: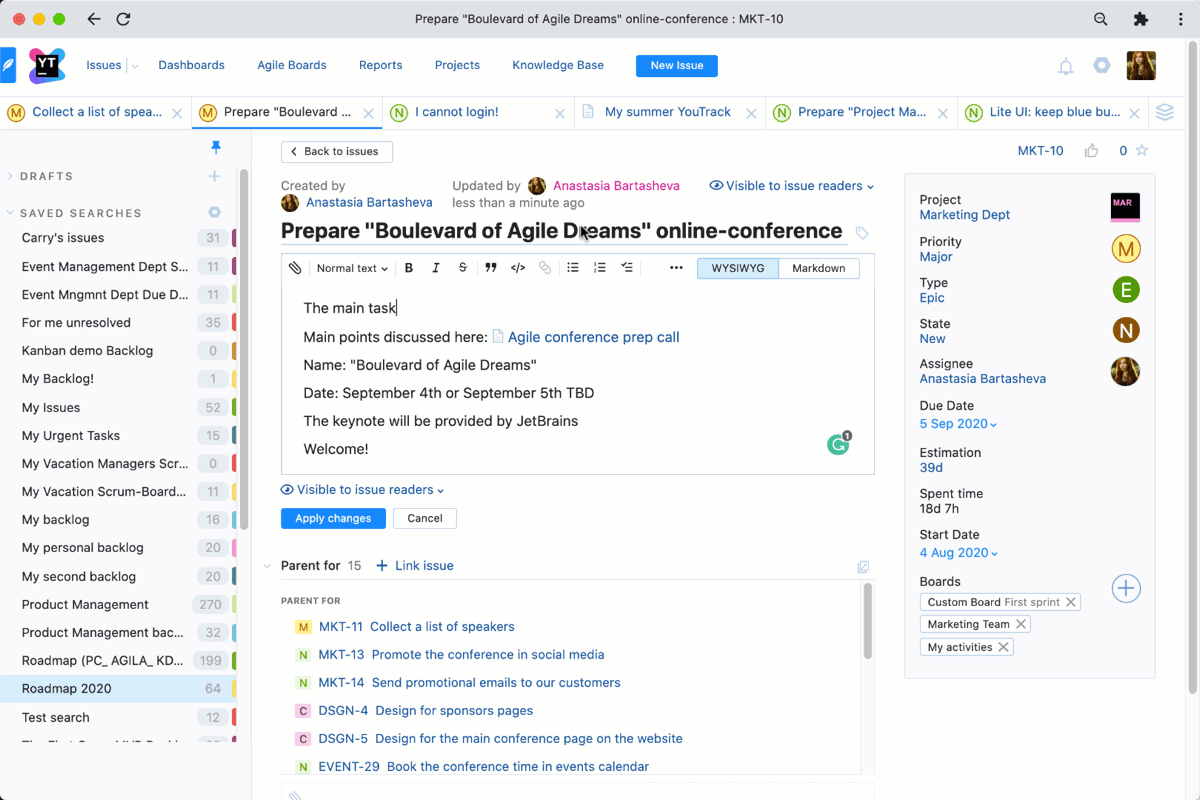 We haven't forgotten about the other visual features that were already present – we have updated our reactions pack to give you more ways to express your emotions. Now there are dedicated emojis to say "thank you" or "okay" to your teammates.
Recently viewed issues and articles to stay in context
Have you ever been in a situation where you needed to find an issue you recently viewed or where your browser was overloaded with YouTrack tabs? We certainly have, and now there is a solution. Access the issues and articles you've recently looked at as tabs on the issue list, and pin any you want to keep close at hand.
Switch between YouTrack Lite and Classic anytime
Whether your current task requires you to deal with multiple issues simultaneously or to concentrate on one issue and track all its details, including development matters and time tracking, you are free to pick the interface that suits your needs. You can alternate between YouTrack Classic and Lite with one click whenever you want.
There is a toggle switch in the Appearance menu under your avatar, and the question mark near the toggle will call a popup showing a comparison between the Classic and Lite views. The same toggle can be found in the Workspace tab of your profile.
Other updates
View commits from Space in issues
As part of our effort to let you keep all the steps of the issue lifecycle in one place, we are adding one more VCS integration. Now you can integrate YouTrack with Space to fetch commits and display them in their corresponding issues. As usual, YouTrack saves you time – you can automatically resolve issues via commands in commit messages and easily navigate to the commit page right from your issue.
What's more, you can automate your routines using workflows. For example, you can assign an issue to the QA lead when a commit comes in or send it to review automatically.
View original emails for helpdesk users
The standard flow of helpdesk interactions in YouTrack assumes that external users send emails with their requests. YouTrack converts these emails into tickets and sends notifications back to the authors when there are any relevant changes, while new replies are attached to the initial request as comments. However, sometimes this workflow can lead to important details being left out of the reply itself. For example, a part of a reply or an attachment may not make it into the comment. Now helpdesk engineers can access raw versions of the emails to make sure that no important details of external requests are lost. Nothing will prevent your team from delivering the best support experience to your users.
Experimental: Confluence import
When migrating from another issue tracker, you don't just need to import issues – your knowledge base is just as important. Now it is possible to migrate your knowledge base from Confluence to YouTrack, meaning you can smoothly transfer all your team's knowledge assets.
The feature is being released as experimental, and we'll appreciate any feedback about how it works for you.
For the full technical details about this release, please take a look at the Release Notes. To learn more about configuring the new features, you can refer to the latest documentation.
If you use YouTrack InCloud, your instance will automatically be upgraded to YouTrack 2020.6 in accordance with our Maintenance Calendar. If you have an active Standalone subscription, you can download YouTrack 2020.6 today. Or if you don't already have a license, you can use the free trial to try out the new version before you commit! For more information about the licensing options available for YouTrack, please visit our Buy page.
We truly appreciate all your feedback, so please share it with us in the comment section below. And of course, please get in touch with our support if you have any questions – we're always here to help!
Your YouTrack team
Subscribe to Blog updates