Features
News
Releases
YouTrack Now With the Notification Center
The very first release of this year, YouTrack 2021.1 brings with it several incredible new features. There is the new Notification Center – a place where you can keep track of all the important updates to your work in YouTrack. Then there is the new time tracking functionality we have added to YouTrack Lite. Other enhancements include links support for custom fields, custom attributes for user profiles, and searching for subtasks. Let's check on the details!
Notification Center to keep you posted
Until now, notifications from YouTrack could only be viewed in a third-party application – via email, Jabber, or Slack. In this release, YouTrack is introducing the Notification Center – a place for all your notifications about new changes, comments, mentions and reactions according to your subscriptions. A red marker will let you know when there are new or unread notifications.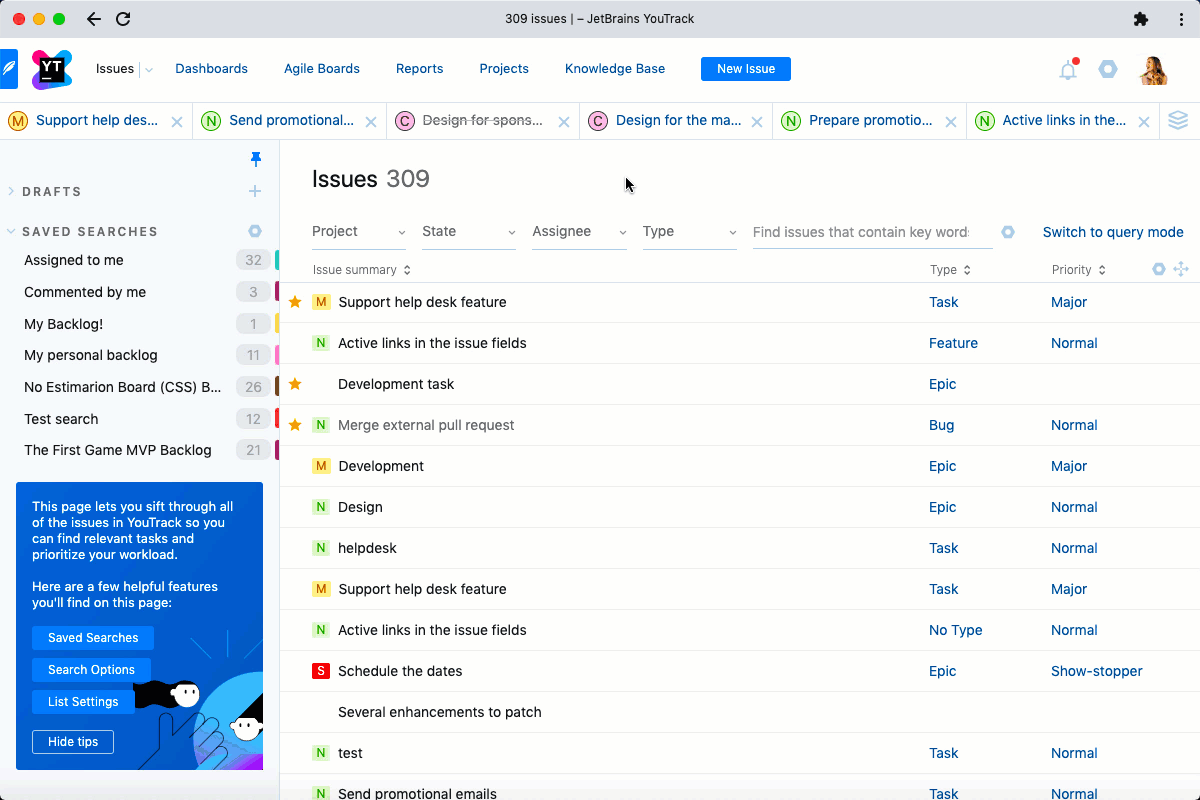 There are three tabs under the bell icon. One displays the reactions and comments where you were mentioned. The Subscriptions tab filters your updates according to the saved searches you are subscribed to. And the third tab, "All", combines both types of updates.
You can navigate to a new comment or add a reaction to it directly from the Notification Center. Each thread can be marked as read or muted. If you mute the issue thread, you will no longer be notified about further changes in that issue.
Click the three dots to mark all notifications as read or display only unread notifications – the latter helps you focus your attention only on the updates you haven't looked at. Additionally, you can disable email notifications here if you want to only use the YouTrack Notification Center to get notifications from now on.
Time Tracking for YouTrack Lite
Released in YouTrack 2020.6, YouTrack Lite – a new streamlined interface with a WYSIWYG editor and table layout for issues – got lots of positive feedback. On our way to cover the most popular requests, we are adding time tracking features to YouTrack Lite, so it is now possible to add time spent and view issue work items there.
Links support for custom fields
YouTrack is now also able to handle links in custom fields. This means you can paste a link into a string field and then navigate to it in one click. Project managers may find it useful to connect different resources in one place – in YouTrack issues – without the fear of losing any important information.
Searching for subtasks
It is now possible to search for not only issue subtasks, but also the subtasks of subtasks too. The whole subtree of a parent issue can now be easily displayed using the following syntax: 'aggregate subtask of: '. This can be really useful if you need to find all the user stories and tasks of a specific epic, as it can now be done in one click.
What's more, you can use this syntax for any aggregation link type, for example, for duplicates or for your custom aggregation link types.
Nested groups for large organizations
If your team or company structure is not that flat, you may find our new nested groups feature useful. Combine users from your team into smaller subgroups to simplify user management in your company.
Imagine there is a main group named YouTrack Team and YouTrack Developers is a subgroup of this. When a new developer joins the team, you don't have to add them into both groups – you can just add the developer to the YouTrack Developers group and all corresponding permissions from the parent group will be inherited automatically. Moreover, when limiting visibility of an issue, a comment, or an article to the parent group, all its subgroups will automatically have access to the issue, article, or comment, too. This should save you from having to perform redundant actions to configure user access properly.
Custom attributes for user profiles
User profiles can now store additional information besides the usual credentials, full names, and emails. It is now possible to add custom attributes to user profiles – for example, to store a user's phone number or position. Also, these attributes are accessible from workflows, which makes it possible to use workflows logic on user positions, phone numbers, and whatever else you add to your users' profiles – for example, you may make some actions available only to the company CEO. Besides that, custom attributes can be synchronized with your AD server or accessed via Hub REST API, which opens up even more possibilities to automate your process.
To manage custom attributes, just navigate to the Users page and click "Manage custom attributes". You will be able to add new fields of different types – email, phone, etc., or update the existing ones on this page. New fields will immediately appear on each user's profile page and in the user list.
For the full technical details about this release, please take a look at the Release Notes. To learn more about configuring the new features, you can refer to the latest documentation.
If you use YouTrack InCloud, your instance will automatically be upgraded to YouTrack 2021.1 in accordance with our Maintenance Calendar. If you have an active Standalone subscription, you can download YouTrack 2021.1 today. Or if you don't already have a license, you can use the free trial to try out the new version for yourself before you commit! For more information about the licensing options available for YouTrack, please visit our Buy page.
We truly appreciate all your feedback, so please share it with us in the comment section below. And of course, please get in touch with our support if you have any questions – we're always here to help!
Your YouTrack team
Subscribe to Blog updates