Features
News
Releases
Helpdesk Projects Arrive in YouTrack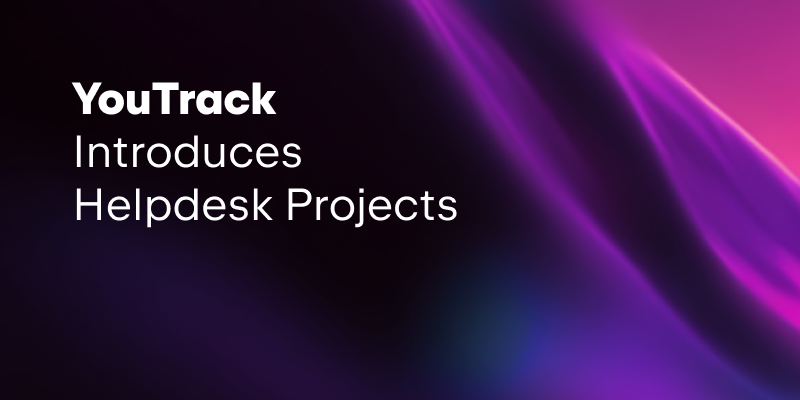 YouTrack 2023.1 introduces YouTrack Helpdesk, which enables you to streamline your customer support services for both external and internal clients. With the new Helpdesk project type, significant improvements for support agents, and the ability to work with an unlimited range of customers and their requests, YouTrack brings experienced customer support to all of your teams' projects in one easy-to-use tool.
But that's not all that's new in YouTrack 2023.1. Enhancements to the Knowledge Base make it easier to build public documentation and FAQs. The Zendesk and mailbox integrations have been improved to make migrating your customer support service easier. New content options, like the ability to embed Miro boards and Google Drive videos into your tasks and articles, will help you enrich your Knowledge Base, tickets, and tasks.
YouTrack Helpdesk in a nutshell
The YouTrack Helpdesk experience starts with the new, dedicated Helpdesk project type. We designed these projects with support agents and other team members in mind, helping you organize your support system for external customers or your service desk for internal ones. You work with these projects in the same YouTrack interface you know and love, alongside other projects that your teams manage. Customer requests can be collected through emails or a customizable form that you can build into a website or internal portal. These requests then arrive in the Helpdesk project as tickets.
When working on tickets, your support agents have access to a number of instruments specifically tailored to common support scenarios, such as internal and external comments, signature and answer templates, service-level agreement (SLA) management features, and more. Ticket updates are then delivered to the customers via email.
You can use YouTrack to more closely connect with your customers. By following your YouTrack URL, reporters will get access to their tickets and the public Knowledge Base content. The Knowledge Base stores not only documents that are visible to your team members, but also publicly available FAQs, documentation, and other resources that are valuable for reporters.
In Helpdesk projects you can work with an unlimited number of customers and requests for free. Each Helpdesk project starts with 3 support agents who can use all of the functionality for free, in both YouTrack Server and YouTrack Cloud. If your support team grows, you can switch to a paid subscription for 4 or more agents at any time. For users of other helpdesk solutions, we offer 10 support agents for 1 year for free in YouTrack Helpdesk Cloud. For more details, check out the pricing page for YouTrack Helpdesk.
Helpdesk projects are designed with support agents and other team's members in mind
Providing quality support is unimaginable without a convenient workspace where your support agents can communicate with customers. We've listened to feedback from multiple support teams and worked to assemble a collection of features that will help them deal with their tickets smoothly and efficiently.
Customer-centricity often starts with involving multiple team members when handling customer requests. With YouTrack Helpdesk, it's easy for members of various teams to collaborate on support tickets and help resolve questions. With minimal time lost due to context switching, members of other teams can help support agents without sacrificing their own productivity.
Helpdesk for support agents
Collect the information you need from customers
YouTrack Helpdesk allows you to collect tickets through both email and customizable forms. Using a form to collect tickets gives you the flexibility to define mandatory and optional fields. Once you have finalized your form and like how it looks in the YouTrack visual editor, you can simply copy a code block and embed it in the site where your customers will use it.
Overview of the tickets
As a support agent, when it's time to take care of incoming tickets, the best place to start is the dedicated Helpdesk view. You can get an overview of all of the tickets or easily switch between predefined searches, such as "All tickets", "Unresolved tickets", "Tickets assigned to you", and others. Various filters and customizable columns allow you to review necessary details, and you can always save a filtered search so you can check on it later or simply share it with your colleagues.
Discuss tickets with the team and publish your answers
When a support agent comments on a ticket, they have the choice to send the response directly to the customer or keep it internal. In the latter case, other team members will still be able to participate in the discussion, but their answers will only be visible internally. When a solution is ready, the support agent can publish an external answer, which will be sent to the customer in an email.
If there is a typo or mistake in the message, agents have 60 seconds to unpublish their comments.
Use pre-defined signatures and answer templates
If you need to type the same responses repeatedly, you can save yourself time with answer templates and automatic signatures. You can add common answers to the templates in the Helpdesk project settings, and then use them when posting comments. Agent signatures can also be pre-defined and automatically added under every public agent reply.
Track response times with SLAs
Helpdesk projects make it easier for your team to manage SLAs. You can specify the expected turnaround time for requests depending on various criteria, such as your working days and hours, type, priority, and others. YouTrack will update the tickets with the actual SLA timeline automatically.
Automate your support with workflows
YouTrack workflows bolster the support you can provide, with multiple options to customize the processes to suit both your customers and your team. Some predefined workflows are available out of the box, including ones that allow you to merge duplicate tickets, close pending tickets automatically, and more.
You always have the option to use a visual workflow constructor or JavaScript workflow editor to create more powerful automations for your support process. For example, workflows can be designed to redirect requests to the appropriate team or agent based on the request type or other criteria, and much more.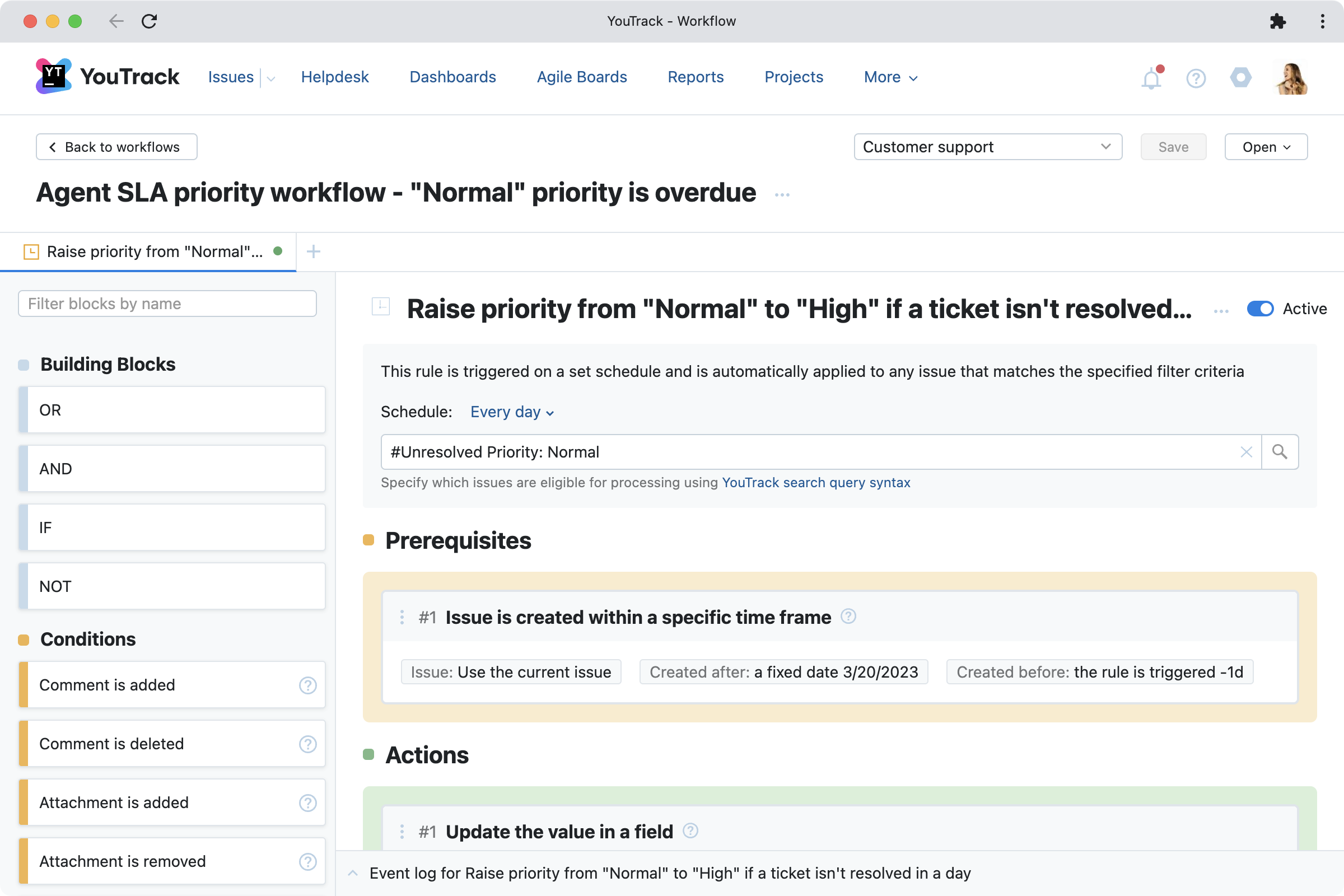 Helpdesk from other teams' perspectives
The better your support team and the rest of your company collaborate on requests, the greater the chances are that your customers will get the answers they need.
Ensure communication security
The support projects themselves are visible to all reporters, while tickets within the projects are only visible to the reporter who created it and the support team. All of a ticket's information and the communication inside it is fully secure and accessible only to the Helpdesk project team and the reporter. Reporters see only the tickets they've submitted, meaning that private customer data will not be disclosed publicly. However, you can always update the internal visibility settings for your team, choosing who should be a part of each Helpdesk project, either by collaborating as support agents or by simply viewing the data and internally commenting on tickets as project members.
Even if you enable a Helpdesk project in YouTrack and make it available to a specific team, the rest of your organization will not be able to view the YouTrack Helpdesk and its tickets unless they are a part of that project.
Easily jump in to help
Colleagues who are not directly responsible for support and are simply invited to discuss specific cases can easily switch between tickets and other tasks in the Issues view they are already accustomed to. All of the common workflows will remain intact, and it will be easy to step in to help. For example, ticket notifications are delivered the same way as they are for tasks.
Manage your process with a concise overview
YouTrack reports provide information about tickets. Reports covering ticket distribution, time, and state transition provide managers with crucial information about the support workflow.
Building on these reports, you can also create separate dashboards to get different overviews, for example, how busy your customer service team is on any given day.
Invite your customers to YouTrack Helpdesk
Your customers will always get replies to their requests via email. But what if you'd like them to have access to more information in one place? Invite them to YouTrack directly!
Using the same YouTrack URL as your team members, your customers will get access to a public knowledge base and a list of their tickets with all of the public updates. Though they'll have access to this public information, your team's internal communication on the ticket won't be visible to them.
Customers will also be able to continue their conversation with your team in the comments of tickets, provide you with additional information by attaching files, and more.
Other enhancements in YouTrack 2023.1
Use tags and powerful search functionality in your Knowledge Base
The Knowledge Base in YouTrack is often used for building FAQs or product documentation. With the introduction of Helpdesk projects and unlimited reporters in YouTrack, it's a great time to start building a public Knowledge Base for your clients.
YouTrack's granular visibility approach will help keep information directed to specific audiences. Because articles in the Knowledge Base belong to a specific project, you can create a separate Helpdesk project where you publish all of your external documentation and make it available for reporters. Your support team may also find it convenient to have internal articles in the Knowledge Base. If you decide to store them in the same project, you can use article visibility settings to specify which content is accessible to the public and which is internal only.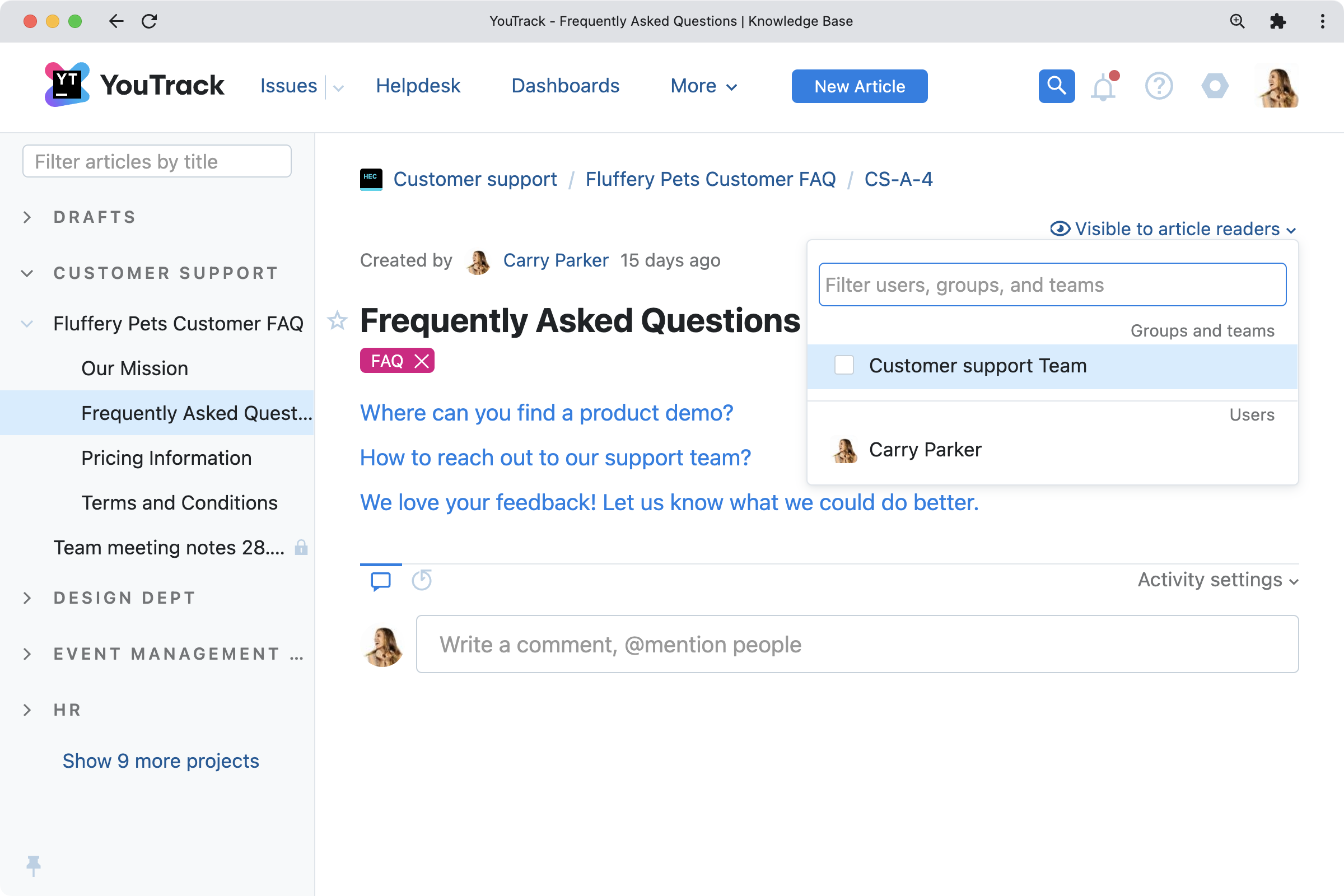 The ability to efficiently find relevant information in the Knowledge Base is important for both your external customers and your team members. To help, we've added filters to make the Knowledge Base's search functionality more powerful. Additionally, Knowledge Base articles now support tags for internal users.
Zendesk and mailbox integration improvements
Zendesk integration update. If you use Zendesk to handle customer requests, take a look at the improved Zendesk integration. It may help you migrate the support service to the new tool or run them in parallel. With Zendesk integration enabled, you get a streamlined approach for all of your customer requests. When a new ticket appears in Zendesk, the integration creates a new ticket in YouTrack with a link to it.
Mailbox integration improvement. We have improved both performance and reliability when working with emails, ensuring your mailbox integrations and communication with customers in Helpdesk projects is efficient. For YouTrack administrators, we've added a view to check the status of the mailbox integration and control the flow of processed emails.
Check out the Release Notes for the full technical details and list of bug fixes and improvements in this release, and to learn more about configuring the new features, visit the documentation.
If you use YouTrack Cloud, your YouTrack will automatically be upgraded to version 2023.1 in accordance with our Maintenance Calendar. If you have an active Server subscription, you can download YouTrack 2023.1 today. If you don't already have a license, you can use the free trial to test out the new version for yourself before you commit to buying! For more information about the licensing options available for YouTrack and YouTrack Helpdesk, please visit our Buy page.
YouTrack Helpdesk will be available to all YouTrack Server customers, as well as to all YouTrack Cloud customers with the Free plan or a per-user commercial subscription following the upgrade to 2023.1. Cloud customers with the old user-package subscriptions must migrate to the new per-user subscription model to get started with YouTrack Helpdesk. Please contact our sales team to learn more.
We always appreciate your feedback. Please share it with us in the comments below, and don't hesitate to get in touch with our support team if you have any questions. We're always here to help!
Your YouTrack team
Subscribe to Blog updates