Features
News
Releases
YouTrack Now With Improved Knowledge Base Collaboration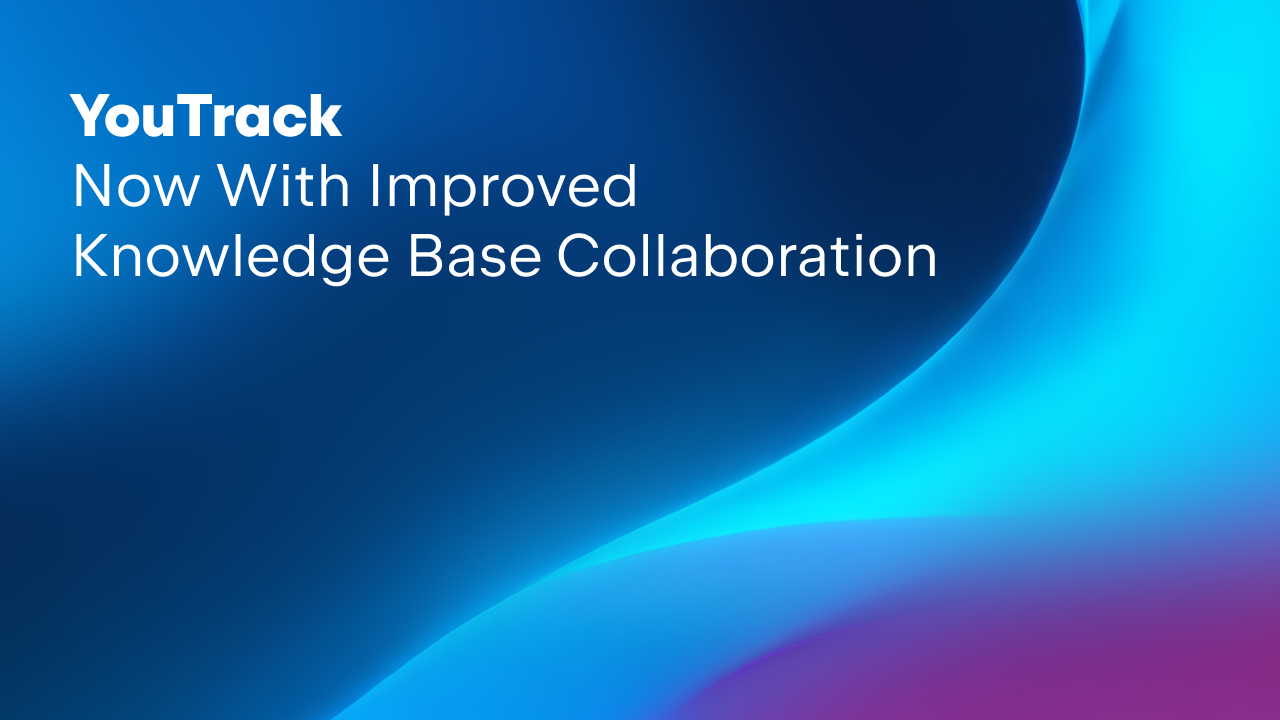 The YouTrack 2023.2 release brings powerful updates to article collaboration in the Knowledge Base, improves the experience of both support teams and customers within helpdesk projects, adds Turkish language support, and supercharges YouTrack's performance for everyone working with tasks.
YouTrack's Knowledge Base has become even more collaborative and informative for internal teams and external readers. While working together on articles, your team can now add context, pose questions, and facilitate and resolve discussions directly within articles. Articles can be exported to neatly organized PDF documents, and you can track the number of views Knowledge Base articles get with built-in statistics.
For support teams and reporters in helpdesk projects, tickets now include the new CC option for adding reporters and other users to tickets, and support agents can create tickets on behalf of reporters. Read on to learn more about the latest updates to YouTrack!
Collaborate and Track Performance in YouTrack's Knowledge Base
Discuss anything using inline comments
Knowledge Base collaboration
YouTrack's built-in Knowledge Base is available to help you keep a record of anything you want – from team meeting notes and internal project plans to public guides and FAQs for your users. When it comes to discussing content, features that allow article editors and readers to collaborate effectively are critical. In addition to regular comments posted under the whole article, YouTrack now supports inline comments that can be added to specific parts.
Working with inline comments
It's easier than ever to ask a question related to a line in an article or to discuss a specific piece of content. You can highlight the text, image, or other embedded content you want to discuss and simply drop an inline comment on it. It's possible to save comments as drafts or edit them after you post. You can even involve more team members with @user mentions, which will notify them that you need their input.
When the discussion is finished, simply mark the comment as resolved. If a chat needs to be continued, you can reopen previously resolved comments anytime.
Conversation overviews and sharing
Whenever you want to see all the activity in an article at a glance, you can either view open and resolved inline comments in the sidebar or get the whole history of your discussions in the activity stream under the article. If you need to call someone's attention to a specific thread, just copy the comment link. Inline comments can be easily hidden to help you avoid distractions when reading.
Comment visibility
You get to decide whether your inline comments will be visible to external article readers, internal teams, or just a private group of users. You can easily restrict visibility when posting a comment to narrow the discussion.
Export article content to PDF
The PDF export feature in YouTrack's Knowledge Base exports all the content as-is, including formatting, links, images, lists, and more. You can choose whether you want to download and share individual articles or all of their sub-articles, comments, and attachments.

View statistics in articles
Some teams benefit from understanding the reach of their articles. You can monitor the audience of your Knowledge Base content by checking article statistics, which provide information about how many external or internal views your articles have, along with other details. You can also track the number of issues, tickets, and articles in which your Knowledge Base material was linked, and generate a list of references directly in YouTrack.
Work More Efficiently With Tickets in Helpdesk Projects
Support agents can seem to have superpowers, especially when they resolve customer requests quickly and effectively. We've improved helpdesk projects in YouTrack with new features that help support agents succeed, allowing them to better manage their work with tickets. We've also improved the experience of working with tickets for reporters.
Add CCs in tickets
Your reporters may want to keep their stakeholders or teammates involved in support ticket discussions, or you may want your agents to be visible in the copy line of customer communications. To handle these cases, tickets in helpdesk projects now include the option to CC additional people into support requests.
When reporters include their colleagues or stakeholders in the CC line of their emails to the support team, YouTrack Helpdesk adds them to the dedicated ticket's custom field for CCs. This ensures that anyone in the copy line will get all of the notifications on the ticket and will be able access it in YouTrack when needed. The number of reporters in the CC line is currently limited to 5.
Support agents and your team members can also update a ticket's CC field to add reporters from the customer side as well as internal team members on your side who need to be in the loop.
Create tickets on behalf of reporters
Some customer conversations may happen outside YouTrack tickets or support portals, for example, in personal emails, messengers, or calls. When you want to continue discussions transparently in YouTrack support tickets, agents can now create new tickets on behalf of reporters by simply adding their email addresses during the creation process. Reporters will start to receive notifications and see that the ticket was submitted by the agent, but requested by them, in YouTrack Helpdesk.
This is also convenient when there is a request in YouTrack that needs to be split into multiple ones. Support agents can now do it themselves on behalf of the customers without having to ask them to resend new requests.
Other Enhancements in YouTrack 2023.2
Turkish language support
Thanks to contributions from our community translation project, you can now start using YouTrack in Turkish. Like all of the other community-supported localizations, we've verified the translations. In the profile settings, each user can choose from sixteen languages, including English, official localizations into Brazilian Portuguese, Chinese, French, German, Japanese, Korean, Russian, and Spanish, and community translations into Czech, Hebrew, Hungarian, Italian, Polish, Turkish, and Ukrainian. The YouTrack mobile app also supports the localizations and will be automatically preset to the language you've selected for YouTrack.
Performance and user experience boosts
We've also added small but important enhancements related to various parts of YouTrack, including the Notification Center, Mailbox Integration, and workspace settings, as well as the issue list layout and issues in the YouTrack Lite UI.
There are several other improvements to the overall experience, most notably YouTrack's enhanced performance while working with search queries and visiting previously opened pages.
Check out the Release Notes for the full technical details and a comprehensive list of bug fixes and improvements in this release. To learn more about configuring the new features, visit the documentation.
If you use YouTrack Cloud, you will automatically be upgraded to YouTrack 2023.2 in accordance with our Maintenance Calendar. If you have an active Server subscription, you can download YouTrack 2023.2 today. If you don't already have a license, you can use the free trial to test out the new version before you commit to buying! For more information about the licensing options available for YouTrack, please visit our Buy page.
We always appreciate your feedback. Please share it in the comments below, and don't hesitate to get in touch with our support team if you have any questions. We're always here to help!
Your YouTrack team
Subscribe to Blog updates